There are many tools casino marketers use to drive visits from known customers, but at some point, we have to fill the funnel and attract new and inactive or overdue customers. We have historically relied on very successful
casino marketing strategies
such as new member programs that are sure to grab attention and sign-ups, follow-up database marketing, and personalization to maintain (if not increase) revenue. Still, I want to talk about the foundational activities that will strengthen your new relationships at the first visit and into the future.
Entertainment can be a great tool to attract new customers. The key is to have offerings available to make them want to spend more time with you. Whether a music event, a how-to session, or your version of Iron Chef, developing various options that people will want to leave their homes for is easier than ever now because we can do so much more than concerts.
Know Your Audience
The first (as always) is to
know your audience
(or Jules Rule #1). One surprising side-effect of the pandemic has been an influx of new millennial customers! Casino marketers have spent the last ten years (or so) considering how to bring the millennial into our facilities. Only now do we realize we may not have been as prepared as possible, but these ideas can help you get to that point.
Identifying the target audience will allow you to focus not only on those most likely to visit but also those most likely to enjoy their visit enough to return (and perhaps bring others like them). This understanding of the ideal customer will also guide you in determining the best resources to communicate with them.
While some may find this limiting, it will not limit your business. Instead, it will make it and your efforts much more profitable.
In our
brand persona
work, we uncover demographic and psychographic work and identify the tools and language that are most motivating to the target.
Operationalize Your Brand
Most casino marketing plans include a section on "the Brand." This section might consist of a plan to tweak the logo or the tagline. Seldom does this portion of the plan involve making the brand consistent from the back of the house to the sign out front. Quite often, the organization's culture never makes it into marketing communications, and when customers visit, they may experience a pleasant surprise or a complete disconnect. Your external and internal messaging and experiences should be mutually reinforcing. Development of your brand should be an inclusive process rather than one reserved for the executive suite. When MGM Resorts adopted a strategy to reposition itself, it was more than an ad campaign. It was a story the company could tell consistently to all of its stakeholders. They transformed the culture first and then reinforced it with the messaging to external audiences.
I confess I am a massive fangirl of brand leadership expert and author
Denise Lee Yohn
. I felt she was talking to my soul as a marketer from the first of her books that I devoured. I've read all of her books. I have seen her speak at conferences. My next step will be to include her in a future edition of
Casino Marketing Boot Camp
. All the self-help gurus say I need to write it and say it to manifest it.
​

Back to Denise Lee Yohn.
Yohn reminds us, "Brands are often perceived as a tool for appealing to external audiences – in marketing, PR, maybe even sales. People define a brand as a company's name, logo, image, advertising, aura, personality, look and feel, attitude, reputation, or trademark. But none of these is your brand. These are manifestations, symbols, or expressions of your brand — and by limiting the definition of your brand to this external, surface level, you fail to realize its full potential to power your business."
"Your brand is a bundle of values and attributes that define the value that you deliver to people through the entire customer experience," continues Yohn, "and the unique way of doing business that forms the basis of your company's relationships with all of its stakeholders. Simply put, your brand is what your company does and how you do it.  Your brand is not what you say you are – it's what you do."
I agree. I get much good-natured ribbing (at least I hope it is indeed meant that way) about my iceberg graphic, but it is truly a great visual to show your team and fellow leaders how they play a role in this thing we call a "Brand."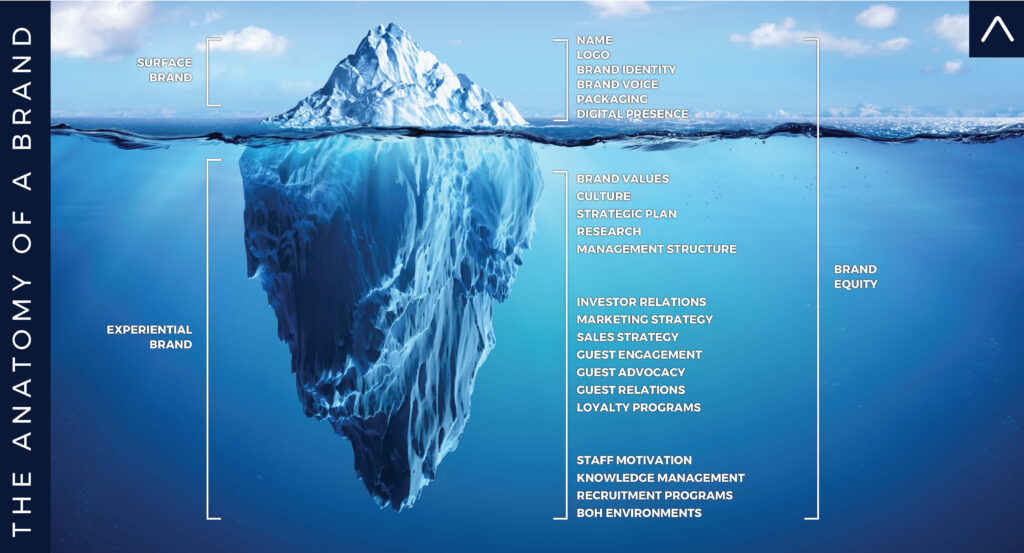 Create Fans by Delivering Experiences Worth a Visit
Create an experience worth trial, repeat visitation, and conversation.
Trust Insights Co-founder
Christopher Penn
recognizes, "Because of the nature of gambling, casino marketing is high-frequency marketing, the same category of marketing that applies to things like FMCG – fast-moving consumer goods. Companies in these spaces require lots of transactions and need to prioritize their marketing based on keeping loyal customers, attracting new customers, and increasing the value of all customers based on the dimensions available to them."
David Meerman Scott's
theory of fandom
would indicate that creating fans is the key to this repetition of visits and the creation of a tribe. Scott reminds us that casino customers are only human. "We humans are hardwired to want to be part of a tribe. We're social animals who feel safe and comfortable when we are together with like-minded people. However, our normal world has been radically altered because of the need to social distance during the pandemic." We've always known that a casino visit is a social event, but what does this mean for us to build a fan base and, more importantly, grow our business.
Get Found Online
As marketers, we spend a great deal of time online. Whether it was ordering groceries or lounging pajamas, Boomers and their younger counterparts are online. The big surprise during the pandemic was how our core Baby Boomer guests adapted (and some mastered) the world of online.
But with nearly 1000 casinos nationwide, standing out can be a daunting task.
Alphametic
President Matthew Capala says, "invisibility is a fate worse than failure." Having an informative, functioning, and user-friendly website has become table stakes. Having more bells and whistles than your competitor is excellent, but it is not enough if you are not crafting an SEO strategy to be found online. Do you know what keywords are relevant to your target audience? Do you understand their intent when searching. Is your content easy to find? Are you answering the questions they have or addressing concerns?
Now that sports wagering operators have taken a forward stance in advertising, it is more important than ever that your website be the one that is found online and the one that provides them the information they are searching for.
Christopher Penn also advises that we look at brand intent. A key measure in regional markets would be local search. How many people search for "'casino near me" in the service area of a casino? That gives us a sense of an addressable market. Further, how many people are searching for your facility by name (which could indicate evaluation of your brand.)
Be helpful – Many new visitors need guidance, but paper gaming guides are a thing of the past, particularly for newer customers. Not only do they help customers, they positively impact the chances you will be at the top of search results.
Social Media
Many years ago, I participated in a conference discussion surrounding social media and whether it was a tool worthy of our attention. Firmly planted in the yes column, I faced an upward verbal battle with casino marketers way more experienced than me. I'm happy to say I was on the side of the future.
Today, it is laughable to think that discussion even happened. Social media is (indeed) as much of an essential communications tool as television. Some may say it is more important, but we can debate that another day.
During the pandemic, our known (and new) customers often relied on social media to understand the ever-changing safety protocols as well as the changes in our casino offerings. I doubt many would argue that social media requires attention and strategy.
Another element we saw take a prominent role is that of the influencer. During our
Winning Influencer Marketing
series, we had the opportunity to talk to influencers, operators, and marketers about the variety of ways influencers were introducing us to new customers and engaging with existing ones.
We know social media can aid in building loyalty by appealing to customer emotions and spotlighting the high-energy environment that perhaps only a casino can offer.
Advertising that stands out and is believable as well as unique
Whether traditional, digital or social, advertising will continue to be the workhorse of our casino marketing toolkit. However, you must recognize that although advertising (such as what we see during Super Bowl or the holidays) can create one-hit wonders of attention, what we need to create is legendary marketing. I don't mean an ad that will be the water-cooler conversation. I mean marketing that is unique to your brand, sustainable, and will deliver significant lifetime value from the guest's wallet and influence.
These are only a handful of tools you can use to create a foundation for attracting and keeping customers.
We will keep exploring the ever-evolving casino marketer's toolbox.
Summary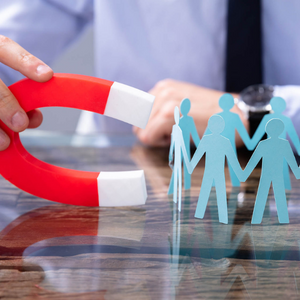 Article Name
How Casinos Can Attract (and Keep) New Customers
Description
There are many ways casinos can attract new customers, but keeping them requires we focus on foundational casino marketing tools.
Author
Publisher Name
Publisher Logo