Over the last year, I've had the opportunity to discuss branding with several executives and marketers. I've seen the usual checklist.
Start with why
Research your target audience
Develop your positioning and session
Create your brand identity
Develop your online and offline messaging
This is a great checklist, and indeed, one that should be considered. Also, I obviously agree that you have to start with your strategy (your why).
For years, I've been polishing old brands and creating some new brands. I have found that, no matter what the project, market, or budget, to be successful and rebrand for the long-run, the steps are the same. They are what one of my former agencies liked to call the "Jules Rules" of branding. Developed over ten years ago, I'm happy to say they still hold up.
Jules Rules #1: Know Your Target/Market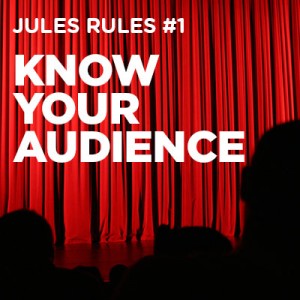 Formal research unearths a great deal of insight. I always recommend it, but I also highly recommend spending time where your customers experience your brand. Today's customers are making decisions through the use of multiple channels. Understanding their needs and (perhaps unspoken) desires is critical to developing the brand that will resonate with them. It is at this point that you should consider the various categories of customers you have or want to have. A generic approach to your customer classification will lead to a generic approach to your brand. Finally, it is time to hit the floor.
Whether you're a casino operator or the owner of a family-owned retail outlet, take time on your floor. Meet and learn more about your guests. Understand what your front line employees have to face when trying to deliver on your brand promise. If you're working with an agency, this is an excellent opportunity for your agency team to understand your business. It's incredible what everyone will learn and how that will affect the next steps.
Jules Rules #2: Brands are Built from the Bottom Up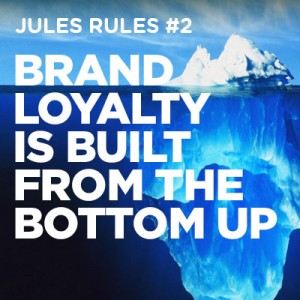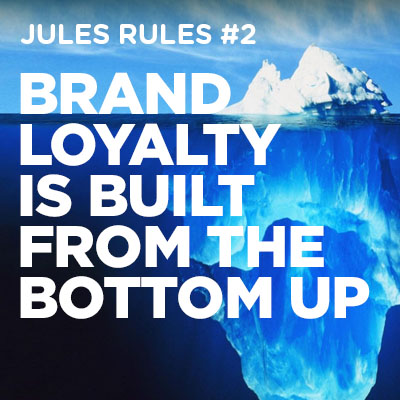 I have been known to use an iceberg image as a long-standing example of what makes a good brand because I feel it's the best way to show your operations team how what they do is perhaps the most essential part of the brand. All the things that happen below the surface are what makes your brand true (or not) to your guests and your employees.
In Jules Rules #1, we touched on how customers make decisions as a result of interacting with a multitude of channels. Your customer determines if the decision they made was the right one as a result of multiple interactions with your brand. Whether that be how easy it is to find what they are looking for, or how the cashier treats them at the sale, your brand is continuously sending a message. So, it's crucial that the brand vision influence all of the operations.
The next time you embark on a brand project, look at all of those elements first before giving your agency or graphic artist directions on a name or logo.
Jules Rules #3: Operationalize Your Brand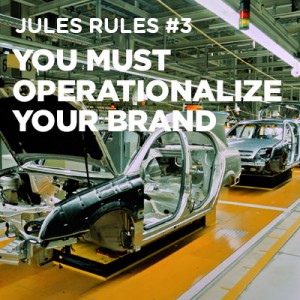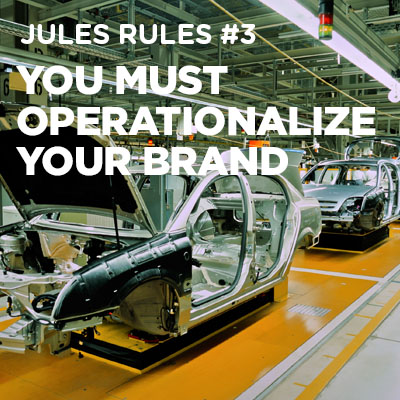 When you can't see a difference between what you say you do (marketing) and what you actually do (operations), that's when you know you have a truly great brand.
First, you have to build an internal culture. As a leader, you have to demonstrate the brand promise in everything you do. Then, you have to make sure the tools you provide your employees to deliver on the brand are consistent with your vision. If you're going to promise a "family-like" experience, your employees have to feel like they are part of that family first, before they welcome new members.
The process of building a brand requires you to not only set a strategy and position but to "operationalize" it. More than a logo on a sign or an advertising campaign, operationalization is about how your brand becomes the culture of the organization. To quote Denise Lee Yohn, "It's about putting your brand to use as a management tool — and getting the most value out of it." Her book, What Great Brands Do, she points out, "by limiting the definition of your brand to this external, surface level, you fail to realize its full business value." The brand becomes the driver of decisions because more than just being communicated to employees, they have internalized it. In effect, it allows your brand to come to life and enables you to deliver on the brand promise at every moment of the customer journey.
Unfortunately, few companies actively align the brand vision with the vision of the operation. Gallup's recent State of the American Workplace report indicates only 22% of U.S. employees strongly agree that their company's leaders have a clear direction for their organization! Why? Because a small group of executives often decides vision and purpose for the brand. This vision is then "pushed" down to the rest of the organization in a variety of ways from memos to pep rallies. The intention and hope are that it will become adopted, but the vision rarely achieves the buy-in we need because we fail to include a significant number of people as we shape the vision, purpose, and direction of the organization.
Jules Rules #4: True Brand Programs Share DNA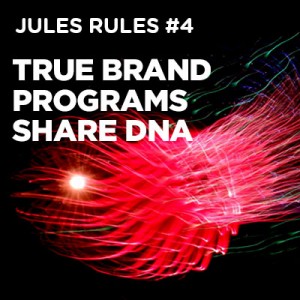 Like humans, brands have specific and unique DNA. Employees and customers reward brands that are true and consistent with their DNA. It's easy to be tempted by the latest trend, but if it doesn't fit your brand, the guest experience will feel disjointed, and your employees will not have the ability to deliver on the brand promise. The offerings you feature must feel like they are coming from the same source. You're not shopping center offering every option. You have to be selective and only offer the things that make sense to your brand. To paraphrase Steve Jobs, sometimes what you say "no" to is as important as what you say "yes" to.
Jules Rules #5: Make Your Brand Iconic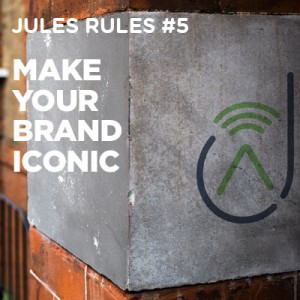 Iconic brands are not a flash in the pan nor relegated to latest and most celebrated status. Iconic brands become symbolic of something more than a mere product. Google. IBM. FedEx. Coca-Cola. More than the products, these brands stand for particular emotional and psychological associations that drive customers to do business with them. When I was at the Isle of Capri and considering the company's brand strategy, we found gold in a file cabinet (metaphorically speaking). Dusting off the Lady Luck brand, we found she had stood the test of time as perhaps the most iconic casino brand.