The casino industry seems to be shifting every day. If it isn't COVID-19-related, then it is a byproduct of a variety of ownership and leadership changes. In the case of the latest acquisitions, most will most certainly need to undergo a rebranding, at least changing the names of their properties. Some, like Twin River Management, have already begun the process for some of their newer properties. Additionally, as Eldorado Resorts moved toward the completion of their acquisition of Caesars Entertainment, the company announced it would retain the Caesars' name in the culmination of the purchase.
The concept of a brand is often confused with the idea of a logo. Brands are about what the company values and the way it does business, but because brands are usually represented by a logo, photos, colors, and typography, the concept of rebranding can lead us to make less than perfect decisions.
Branding and rebranding can be risky. It will affect how your team members and customers see you. If done correctly, your company can see the benefit of long-term success. Done poorly, and you could end up with nothing but a logo. Additionally, rebranding can aid you in growing your business and reaching new customers. It is, at the very least, a guaranteed way to create a little news for your brand.
When Rebranding Your Casino, Consider the Heart of the Matter.
Rebranding is costly in both time and resources. Besides the apparent destruction of logo items and production of replacements, rebranding projects involve research, training, communications, and gut-checks at every point. Rebranding should always include an in-depth look at your brand values and purpose. This post is not about logos. It's about your BRAND – who you are.
For the most part, casino marketers sell the same thing – slots, table games, a buffet, perhaps a higher-end restaurant or two, hotel rooms, concerts, and promotions. More recently, as states have opened up sports betting and online gaming, we also find ourselves selling more of the same options. So, it's easy to start looking very similar. It's not unusual to find markets where there is no differentiation between options, and customers will unfailingly begin to choose based on offers and rewards. If you can fail the ad test (putting your hand over the logo to see if you can identify the casino), it might be time to consider a rebranding. I'm not saying you need a new logo. You need a better focus on (and communicate) what makes you distinctive.
If the business strategy has shifted (perhaps to target a new audience or because of changing consumer attitudes), you may want to consider a review of your brand strategy, which may lead you to a need to rebrand. Business, brand, and marketing strategies must be interwoven in such a way as to support the other. A brand has to speak to its audience, and if your brand and your audience are like a couple on the track to divorce, a rebrand may be just what the marriage counselor ordered.
You may be working with a very aged brand that has not kept pace with the current desires of casino customers. Our offerings have changed with market changes, but very often, we've rested on our brand laurels without breathing life into it. Additionally, long term team members may be holding on to old notions, while newer hires see nothing they can work with to create exceptional guest experiences. 
A look at historic brands will show only a handful have indeed been able to hold up to the test of time. Brands such as Carhartt, Yuengling, LL Bean, Whirlpool, Colgate, and John Deere have continued to innovate and provide something "useful" to the consumer. Conversely, the list of defunct brands is eye-opening. Entertainment options do not have the benefit of "usefulness." So, we must be able to continue to connect our brands to the hearts of our guests.
You might also have modernized your offering to meet the newer market demands, but you're still relying on out-of-date values (and processes). If your values have evolved, you want to evaluate a possible rebranding project to shift your focus to the present rather than the past.
If you saw your brand in any of these situations, you may be a prime candidate for a rebrand.
Risks of Casino Rebranding
The desire for the spotlight can often lead business leaders to undergo a rebranding that can backfire. Whether it is correctly done or merely a logo change, rebranding is a little like turning a ship. It takes time. Failures are unfortunately not too uncommon, though the reasons may be. 
You're just tired of what you have been communicating and want something new.
You don't do enough research into the real issues.
You make a change that is not in support of the business strategy, or perhaps, the strategy itself is wrong.
The changes are meaningless.
You work through the process in a bubble and don't have the support of stakeholders. 
You lose brand equity.
The biggest misstep is the bandaid – when you create something to solve a problem today rather than looking to sustain the brand for some time to come. You want to build your brand not just for today but for the future as well. You want to consider the various trends impacting the casino industry, the evolution of technology and communications channels as well as the evolving customer base. Anticipate how these changes will affect the brand and your operations.
Reasons Not to Rebrand Your Casino
The reason this post focuses on all the problems with rebranding is that (as we've said), it is a long and involved process. We always want clients to be fully committed to the process, and bringing up the negatives lets them consider the traps and limit the surprises they will find along the way. We want to know why you want to do this now, why it was not done earlier and why you can't wait another year or two to do so.
A discovery process should unearth all of the reasons. If they are any of the following, we assist clients in identifying other ways to right their brands.
To shift the focus on internal problems. This, by far, feels like the most significant stop sign ever. The inner workings of an organization cannot be corrected or hidden from view through rebranding.
We need something new to generate some good press. You might be successful in getting some good PR, but it will only last the length of a news cycle. Rebranding for the sake of PR is typically limited to a facelift of a new logo. When new logos are lacking a brand foundation that the consumer will see, you will quickly end up with the Monday morning quarterbacking of the design.
To change the story in the press. Rebranding can be a reflexive reaction to a crisis of reputation, but history has shown us that strong brands can weather a crisis. So, if you're rebranding just to change the story, you may just give the story more life.
To signal new management. New management often brings a new set of ways of doing things. It is always tempting to put a unique mark on things, but this does not necessarily signal a need for rebranding unless those new ways also change the brand's values and purpose. If your brand is a signal of the leadership philosophy, then what happens when they leave? Although acquisitions and expansions often come with new management and new branding, it should be based on real changes that customers and team members will see and feel.
Peer pressure isn't just for teenagers.

 

Do we ever really outgrow the notion of peer pressure? Because so much of our gaming revenue comes from such a small portion of our customer base, it is not unusual to hear more complaints and friendly suggestions from a large part of our customer base. But, as brand leaders, we must not let this pressure shift the focus away from our brand values.
To match the competition. You want your brand to lead, not to blend in with the crowd. At best, you'll feel like a copycat with no unique reason for existing in the marketplace. At worst, it will seem desperate and not worth the trial. 
To appeal to a new market that is attractive on the surface but not a great fit for your brand. Admit it, you've sat in a conference room to discuss how to attract the coveted millennials to our casinos, and someone said your brand needs to be hip and cool. Rebranding is not going to attract an audience that is not the right fit for very long. Success will be short-lived and unsustainable.
Brand values don't line up, or you don't know what your values are (or who you are) — It can be a hard road to rebranding when an organization doesn't know what it truly values and the purpose they are meant to serve. It's a little like exercising. Your core is the focus that will help you as you try to run further, lift more, or get that downward dog just right. An organization that doesn't understand its brand core will undoubtedly lose its way. How can you communicate your new brand if you don't know your now brand?
You are only making a logo change. Sure, a new logo gets everyone excited. It's the manifestation of something new, but if your rebranding does not filter throughout the entire organization, you will only have a surface level brand, unsustainable in the long-run.
The competition has rebranded. If the competition is rebranding because of a shift in the industry or market, then it is probably a good idea to look at the changes and how they affect you. This may or may not result in a need to rebrand. Merely following in someone else's footsteps is not a good reason to shake your operation up.
You are tired, bored, or just do not like the existing creative. This is a favorite, and unfortunately, a widespread answer to the Why question. James Heaton refers to this as

brand fatigue

— when leaders "become prematurely tired of their own brand presentation and, as a result, push to change it before it has had the opportunity to fulfill its mission or even fully register and build power in the minds of their brand consumers."

When nothing is changing. Logo changes cloaked in rebranding can usually be traced back to a lack of operational changes. Rebranding must come from real changes in the core of the brand's purpose, values, and operations. If you're not changing anything, save your time and money so you can focus on what will truly make a positive impact on your business.
Ready for a Casino Rebranding?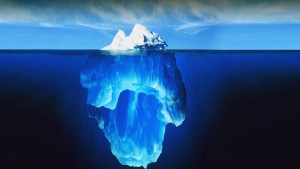 We often look to our iceberg when we talk about brands being built from the bottom up. In any rebranding process, you should start at the bottom and understand how the operation lines up with the identity.
Begin with a brand audit to uncover your brand's purpose, vision, mission, and values. Understand WHY you exist? Hint: it's not to make money. What is the future you see, and how does the brand fit into it? How do you take that vision from dreams and hopes to reality? What do you value? What will you say "no" to? This internal gut-check is a must to start a successful rebranding process.
Then, you must understand the perception of your brand by everyone else. How does the market view you and your brand? How do employees perceive the brand? Survey employees, current customers, and your competitor's customers to understand what they think of your brand (and the competition) to identify the space you might be able to fill successfully. 
These are two significant steps, but they will get you on the same page in terms of the brand so that you can provide appropriate direction to your agency partners.
Then, test. If you do not or cannot connect with team members and customers, you will not be able to achieve the goals you have set your brand. Before launch, you should know if the rebranding is resonating with key stakeholders and if it is indeed reflecting your values and mission. If you see gaps in what your intent was and what you hear in the research, you have more work to do.
Launch to your internal stakeholders first. When MGM rolled out its renewed focus on entertainment, the rollout was a cascade from the top management down to each team member. Provide tools such as a comprehensive brand style guide and real-world examples. Make the future the focus of the rebranding to minimize the "good old days" phenomenon, which can often interfere with a successful introduction.
Branding and rebranding have been some of the most rewarding work I've experienced. I can guarantee that it will be one of the most challenging projects you take on. It will be worth every debate, every late hour, and every round of creative.