The battle for the casino guest's share of wallet is won or lost in the mailbox. As a passionate brand marketer, it can be discouraging to see direct mail take the spotlight in the casino marketer's toolbox. However, if you consider the opportunity marketers have to extend their brand and experiences TO that mailbox, suddenly you see that spotlight expand.
Some operators choose to make free play and comps the primary function and focus of direct mail.  That can be an appropriate approach if your strategy is to compete on price only. Some brands choose to compete on experience. This is what we typically do with high-end invitations, such as the New Year celebration. We spend a little more money to create a tempting promise of a great experience.
Given the two options, why would you choose to compete on price only?
One of our agency's first clients was a database marketing provider. During our time with them, we had the opportunity to talk to marketers about how to identify the people in their database that had more value (some would say "upside") than the past visits might indicate, as well as those who may not have been at the end of their lifetime value.
These conversations with marketers were always about reinvestment and the offers they should be making to their guests to drive additional visits.
Like casino marketers, small-business owners in every industry recognize that some guests are "worth more" than others, so they work to ensure their entire staff focuses on these differences. Since not all guests are created equal, they should not be treated identically. For them, the key is often to focus service efforts on those guests who can potentially add the most long-term value.
And then there is the mail program. Whether snail mail or email, we apply this same insight and purpose. First, let's consider good basic practices.
Casino Direct Mail
Casino marketers send a variety of direct mail pieces. Whether it is an ad hoc mailer, a supplemental mailer, birthday, or a special invitation, if you are a casino guest, you will get mail! The centerpiece of a casino marketing direct mail program is what some call "core mailers."
Some refer to them as the "monthly newsletter." Interestingly, the news is probably the lesser of the focuses of these pieces of mail. Through years of experience and operators, the critical component of the core mailers has always been about how to layout the offers – front and center in a way that makes it easy for guests to find them, clip them, and want to redeem them.
Over the years, I have witnessed many focus groups in various markets across the United States, and I know that the offer is what the guest is interested in. They've said it.
"I take my coupons and throw the rest away. Then, I put my coupons on my refrigerator door."
As the one responsible for the communications platform, this has always been kind of disheartening. In addition, I think it has made me default to that same way of thinking. Those comments have influenced my design directions, but at some point, I have to ask if it was the chicken or the egg.
Do guests look at the offers because we designed the platform that way, or did we design the platform to tell the brand story?
Personalize
Everyone likes to feel special. A personalized approach can turn your mail from junk to treasure. Use a guest's name along with tailoring offers because you know they want it. Avoid sending tempting slot offers to a table player. They may like it every once in a while, but balance is the key.
Images
Images should be attractive to the recipient. Clear images lacking clutter can signal your brand and create a desire to be a part of the action. If you use people in your photography, choose talent that is 10-15 years younger than your database's core demographic, so your core audience feels comfortable enough to be around them, but your younger target can identify with.
Focus on the Important Details
Make the information guests need to register, redeem and participate easy to locate and reference. What, where, when, and how. Avoid adding so much creative copy that it becomes confusing or hard to say, "Yes."
Integrate Mail with all of Your Marketing
Your direct mail must reflect all of your marketing efforts. Use the same images, graphics, and language across printed and digital elements. This sort of visual map becomes an unspoken conversation between you and the guest.
Finally, Maintain Up-to-date Lists
Clean up typos and update files with return mail service. Ask player development executives to update guest profiles as needed. Schedule regular NCOA (National Change of Address) updates.
Casino Email Marketing
Casinos are increasingly more likely to use digital marketing strategies for player acquisition and retention. Email campaigns are one of the most popular and effective (when properly executed) techniques. Creating a successful email campaign for a casino combines art and science.
Start with a Valid List of Email Addresses
One thing that is identical with online and mail campaigns is the need for a list of valid addresses. Collecting email addresses has become easier than ever with high-converting pop-up forms, landing pages, and inline forms, but kiosks and a friendly request from a guest services rep can build a great list for you.
Consider personalized calls-to-action in your direct mail to gather missing information from players. Often something as simple as a free t-shirt is just the motivation to join your email list.
Send Quality Content
Just like paper magazines, emails need quality content. In some ways, emails need more focus on the catchy opening and a friendly personalized greeting, addressing players by name. It doesn't matter how great you think the content is if the email goes straight into the trash folder.
Here are some tips for success.
Be straightforward, providing relevant information "above the crease" at the top of the email instead of hoping readers will get to the end. Losing reader attention is one of the biggest concerns in email marketing.
Copy and images should immediately telegraph the brand, so guests recognize you immediately.
Remember, some email clients may "hide" images. Recipients must choose to display them. So, you want to carefully consider the alt tags on all of your images and the file names. Those decisions are especially critical if recipients choose NOT to turn on images.
A good hook in the subject line is essential to make players open the email. Tell readers about the content, but don't reveal too much. A good subject line uses 50 characters or less.
Target your audience carefully. Send different information to players who joined recently and those who have been with you for a long time. Also, write targeted messages for high rollers, slots lovers, VIP players, and roulette enthusiasts.
State a call to action (CTA) based on the purpose of the email. For example, if you want to promote bonuses, your CTA would be something like "Get Your Bonus Now!" so players know what to expect when they click.
Do not use trigger words for spam filters
Avoid brightly-colored fonts
Don't capitalize every letter. Use a sentence structure instead of a title structure.
Don't overuse exclamation marks!!!!! (See what I did there?)
Keep unsubscribe links visible so readers will unsubscribe instead of tagging the email as spam if they prefer not to receive them anymore.
Regular Contact
Keep players updated on offers, promotions, and the latest news. Send out emails on a schedule, but don't overdo it enough to annoy your email list. Also, choose the timing carefully. If guests need time to plan to attend or redeem, give them enough.
Spam Free
You don't want your emails to be tagged as spam. Here's the most basic anti-spam advice:
Avoid spam trigger words and phishing phrases
Ensure your CAN-SPAM compliant
Include a text-only version of your email
Get off the blacklist if you find yourself unfortunately on it
Use spam checkers (along with grammar checkers)
More Competitive Each Day
Our markets are getting more competitive each day either by improved entries or because the casino down the street isn't afraid to over-invest. Thus, they flood the market with less than wise offers.
It makes me think. It makes me wonder. Why do we continue to compete on price when we have such distinct brands and personalities?
What if we created these mailers in a way that is still easy for the guest to understand what we've given them but also gives them a piece of mail that is exciting and important enough to make them want to put the whole thing up on the refrigerator rather than throwing the communications part in the garbage or sliding it over to their trash folder?
What if these mailers become an actual piece of brand storytelling?
As operators slowly trim away indirect expenses (i.e., advertising), this remains the single-most-important vehicle we have to deliver our message.
There is no denying that this type of approach could cost more to produce. Could it influence your guests to choose you over your competitor even if the offers aren't equal? What if we experience-engineered our database marketing creative rather than value-engineering it?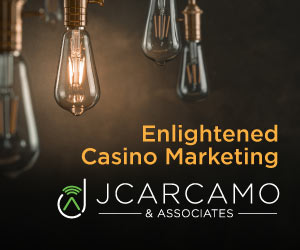 Start Small
Take small steps if you're concerned about budget constraints.
Instead of sending out postcards the size of the ones you get when it's time to bring your puppy in for her shots, consider a larger size that will stand out in a pile.
How about special coatings to make that invitation stand out? Print production advancements mean these tricks are easily (and inexpensively) added. One of our Casino Marketing Boot Camp attendees used coffee-scented ink on an invitation for a coffee-themed event. Imagine getting that in the mail.
Think about sending a promotional item tied to the theme of your event.
If your agency has a good production manager, they'll be able to give you all sorts of ideas for shipping containers, materials to be used, and printing processes that add pop. If you've been using the same dependable printer for years, I bet you they are dying to show you some new things that can showcase them as well as you. Schedule a tour of your printer's facilities to discover all the tricks they have today.
Consider adding an email marketing campaign to supplement your hardcopy mail. Frequency plays an essential role in our communications programs.
Why choose to be a value engineer when you can be an "experience engineer?" Have some fun and ask for ideas from small to crazy. You never know what you'll get, but it won't be boring and the same.
I ask you to take a new look at your mail and balance both offers and marketing communications.