I saw this line, and it made me laugh out loud. "Employees are easy for a business to land." The date was March 13, 2020, and I am sure the author was stating a fact for the time. Today, things are very different. As I sat in the audience of a conference, I heard casino leader after leader lament the struggle to fill important positions. I have visited casinos from one coast to the other and seen the battle with my own eyes.
Branding Beyond the Logo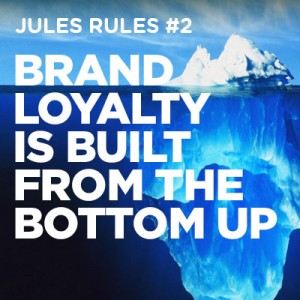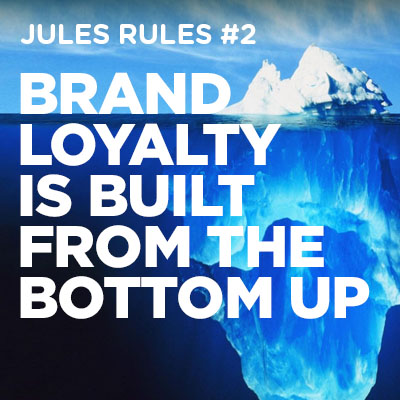 I have often said that brands are built from the bottom up.
As companies, we spend a great deal of time developing our external brands. We research. We test taglines. Sometimes, we even test creative. It is not unusual for notable brands to spend more money than we'll ever see in our total marketing budgets to develop the right shade of blue for their logo. You can spend a ton of money developing your external brand and supporting marketing, but in this modern marketing world, WHAT you do is only a part of your story. WHY you do it and HOW you do it is just as important.
Moreover, in today's connected world, although your brand is constantly being reflected to guests, what's going on inside your company can often end up being the brand story. The connected world demands that what traditionally has lived in the back of the house should be right at home in the spotlight.
Ensuring your team members are as connected to your brand as the advertising team is requires that they feel connected and understand their part as brand ambassadors.
Internal and employer branding have become hotter topics as businesses struggle to fill positions.
Though the terms are often used interchangeably, they differ slightly – one primarily tied to the culture and the work environment and the other principally to recruitment and the brand's reputation as an employer. I feel the concepts are intertwined, but if you get internal right, the external employer brand should be a natural outcome.
Why an Internal Brand Matters
No matter the industry or operation, the goal of any branding exercise is to establish credibility and a reputation that guests and team members can trust. However, neither the guest nor the team member puts their trust in the logo only.
Internal branding is the process of connecting the team member experience and the promise we make to them with the experiences we create and promises we make to guests. It is a deep connection because team members understand and believe in the company's vision.
Executed successfully, team members become more than paycheck collectors but brand ambassadors – a living embodiment of the brand promise. Moreover, as brand ambassadors, they share our brand stories.
How does employer branding work?
While internal branding starts on the inside, employer branding is how that internal piece is used to attract potential candidates. An employer brand is the perception potential team members have and the feeling of alignment with their aspirations.
Employer branding touches every interaction with candidates, from job postings to the application to the hiring process and, ultimately, a team member's exit.
Employer branding seeks to position your company as the employer of choice, and both concepts (internal and employer branding) are crucial for three important reasons.
We are all competing for talent. Indeed, we may compete for team members as vigorously as we do for guests. Like guests, team members want to be associated with leading brands. The battlefield is very level as more prominent names do not necessarily equate to an employer of choice. So, employer branding could be your secret weapon to attract talent – even if they are not actively on the market.
Committed team members mean lower turnover rates. Good internal branding creates happy team members because they feel they are essential to the vision. These team members will only refer equally committed coworkers, which could lower recruitment costs even more.
And that brings us to the third benefit, reduced hiring costs. According to LinkedIn research, companies can find themselves spending almost double per hire compared to counterparts with solid branding. And if the employer branding is perceived as unfavorable, candidates may rule you out without seeing what you may have to offer.
As a bonus, positive employer branding can also aid in the acquisition and retention of guests. People want to do business with businesses that treat their team members well.
Team members are the core of our brands. Whatever term you choose, branding the team member experience is vital to any business. It helps people remember your brand when they are thinking about buying something from you, and perhaps more importantly, it helps potential team members understand what a career with you could mean to them and why it matters.
How to Develop Your Internal or Employer Brand
When embarking on any brand development, you must start with defining your vision and mission. Without a defined vision, team members will not be able to identify with a purpose; worst of all, your business will lack one.
Establish a Vision.
First things first, establish a vision for your business. What does your company stand for? How does it make people feel when they think about your company? What values does your company embody? Once you have established your vision, start thinking about who your ideal guest is. With whom would you love to work? Who would you love to hire?
A specific vision will give team members a reason for coming to work besides collecting a paycheck. And because everyone will be on the same page, it will be easier for them to make decisions that will benefit the company and the guest.
Although establishing the company vision is often done in the confines of a boardroom, it is vital to allow team members to participate in the conversation. Ask for feedback, and they will return the favor by uncovering possible improvements and forming a community within the company. As humans, we all want to belong to something bigger than ourselves.
A strong brand will help you communicate what makes your company unique. It's also a powerful tool for recruiting new team members and retaining current ones.
Create an Identity Statement
If you want to build a culture within your organization, start by defining the core characteristics of your brand. Then, elevator pitch-style, create an identity statement – a short description of who you are as a company and what makes your brand unique. In the external branding parlance, this is usually a tagline.
Define Your Message
Like guests, potential candidates want to know exactly what to expect as they become team members. Creating an authentic message and tone of voice that is consistent at every touchpoint — from job posting to application to onboarding will present a cohesive picture of your company and differentiate your brand from all others. In today's unstable employment world, expectation consistency is essential as we recruit team members.

Activate the Brand
Traditional efforts to activate the brand to team members have mostly taken the form of memos and newsletters with an occasional pep rally or town hall thrown in. However, in today's world, that cannot be enough. It is not enough. You must nurture your culture.
Nurture your culture.
Employer branding is merely a reflection of the brand's culture. It is crucial to any brand's existence that its culture be nurtured. Attracting the right-fit talent will be the benefit of your efforts.
Invest in a Personalized Team Member Experience
The team member experience is an investment in the brand's future. Understand the goals and interests of your team members and try to tie them to the brand. Tailored plans for a team member's future with the brand makes them less of a number and more of an ambassador.
Make the Brand Tools Easily Accessible
To create branch champions, you need to provide proper tools that are easily accessible to team members. Newsletters and memos may work for some. But, younger team members may prefer delivery via technology.
Consider team member advocacy software and a beautifully designed (yes, with as much care as your public-facing website), fast intranet as a central hub where brand content, company and industry news, and important documents are easily accessible. Added elements such as commenting and tagging other team members can speed up adoption.
Just like with guests, we must meet team members where they are. Memos and back-of-house signage may not have the same power as they used to have, and emails can get lost or forgotten in overburdened inboxes.
Spotlight and Incentivize
For your brand to have long-term staying power, it is vital to discover the team member actions that create value for the brand or exemplify the brand in action. Leadership should actively note these moments to motivate team members and reward those leading the way through their actions.
However, incentives do not have to be in the form of money. Seek input from team members to understand what they see as a reward. In one of my first jobs, the moment I was able to move from a distant parking spot to one just a few steps away was a shining moment. I still remember it over 20 years later. Think outside the usual incentive box to discover ways to motivate team members truly.
Create a Meaningful Hiring and Onboarding Experience
There are job descriptions, and there are CAREER descriptions. Applying for a job is daunting even if you are currently employed and want to understand what the market can provide. Additionally, because most hiring and onboarding processes are created and implemented without brand input, most of us are missing the opportunity to wow potential candidates and truly identify those that may have a natural connection to our brand values.
Look at Southwest's Careers site, and you will notice that positions as tactical as ramp agents are responsible for the guest experience. Because Southwest's brand and culture place the customer at the center, they ensure possible candidates will know this before they apply.
The period of transition between a job offer and a start date can tell a new hire the unwritten facts of the company. Onboarding should equally weigh education about the company's core values as it does paperwork and rules. This critical period should include all levels of the organization and be designed to acclimate to the culture and values. A bonus is when team members can learn about colleagues' roles in other departments and how they are linked to a common purpose.
Continually Bring Your Internal Brand to Prominence
The same tools we use to bring our brand to life to guests can impact team members equally.
Social media can be where you may find your most engaged team members. Creating content that showcases team members in such a public way can spur applications and guest visits. Consumers want to do business with companies that treat team members well.
Blog posts are an opportunity to tell a longer story of team members in action and spotlight their brand value.
Review sites such as Glassdoor can be problematic to some, but they are indeed an opportunity, even considering a lousy review. Your attention and response can demonstrate to future candidates that you are willing to listen and improve if necessary. Monitor all review sites for team member comments.
Finally, events, whether local or large tradeshows, can be a great place to identify potential candidates (and potential employers). Ensure you put your best foot forward and focus on the team members that make it happen along with your product features.