Hispanic Americans are perhaps the most significant ethnic minority in the United States. Depending on data, you can safely estimate they make up nearly 20% of the population. That means almost one in five Americans is Hispanic, and according to the Census Bureau, that number is expected to grow exponentially to a projected 133 million by 2050. As acculturation increases, these consumers will grow up exposed to our brands. There will be even greater demand for products and services targeted toward this fast-growing market.
Among the many multicultural groups in the U.S., this audience has become one of the most influential and affluent. Yet so many businesses have failed to understand this shift truly.
However, there is an opportunity for us to connect and engage with this audience, but first, we must understand what matters most to them and the diversity that binds them together.
Most marketers understand the importance of connecting with this segment. Yet only 6% of overall ad spend is directed at the Hispanic community. Additionally, Hispanic actors and culture are often marginalized in mainstream culture, despite the United States being one of the largest Spanish-speaking countries in the world.
Reaching them requires nuance and understanding.
Hispanics Are Not Just Another Demographic Group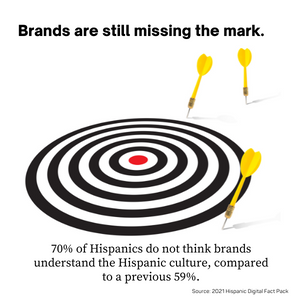 Hispanic. Latino/Latina/Latinx. One thing is sure. This segment of the population cannot be painted with one brushstroke. U.S. Hispanics hail from a variety of countries with unique traditions and languages (to an extent). Additionally, the multi-generational family can represent many degrees of assimilation. Growing up, holidays with my family included grandparents who only spoke Spanish, a grandfather who spoke both (and quite good English, as I recall), parents, aunts, and uncles switching mid-conversation between Spanish and English, and all the cousins speaking English only (or as much as we could get away with). This is a familiar setting in many Hispanic households.
Given this, how we shop and consume media could never be not one-size-fits-all.
Although recognized by some media outlets as the "super consumer," the unfortunate reality is that advertisers typically see us as one-size-fits-all, often merely translating traditional messages into Spanish and calling it Hispanic marketing. However, I must admit that I have been impressed when I see or hear a Spanish language ad in the middle of English programming because I recognize that somehow, somewhere, someone saw my I.P. address as the target.
Hispanics Have a Higher Income Level And Better Education Levels
A few years ago, I co-founded a Hispanic marketing and engagement firm. For years, we spoke to mainstream advertisers about this audience, only to be met with various reasons they were "unsure." If it was a healthcare organization, they were concerned the audience would not have insurance. If it was financial, the client was unsure there would be much to work with. The reasons were too long and all too common, even though Hispanics in the U.S. have a combined purchasing power of $1.7 trillion.
Fact: Hispanics tend to earn more than other groups.
According to Statista, the median household income for Hispanics was $55,321 in 2020, dropping slightly from $56,814 in 2019. The 20% increase from the five previous years is the highest among ethnic and racial groups.
Fact: Hispanics also have better education levels than other groups.
According to the Pew Research Center, the Hispanic high school dropout rate has declined, and college enrollment has increased over the past decade. About 42% of U.S. Hispanic adults ages 25 and older had at least some college experience in 2019, up from 36% in 2010. And women are leading the way.
Fact: Hispanics are more likely to own homes than other groups.
In 2016, the homeownership rate for Hispanics was 65%, compared to 57% for non-Hispanic Americans. By 2019, this rate had increased by 33%.
Fact: Hispanics are opening more small businesses than ever before.
According to the 2020 State of Latino Entrepreneurship Report, Hispanic-owned businesses have grown 34% over the last ten years compared to just 1% for all other small businesses.
The takeaway is that Hispanics have $1.7 trillion in purchasing power looking for brands they like and want. That figure is expected to grow as the GDP of U.S. Hispanics continues to expand faster than those of Germany, the U.K., France, and Japan.
How to Reach the Hispanic Consumer
Language matters.
As I have noted previously, some businesses assume they can translate their ads into español and call it a good day's work. However, that is only one piece of this plan, and even then, the piece can be different from market to market.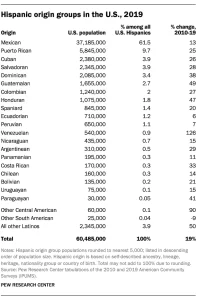 While a Spanish ad may effectively reach some of the target, it fails to consider language preference. According to Claritas, only 32% of the community depends on the Spanish language or has a bilingual preference. The research firm's Hispanicity metric measures "the degree to which people of Hispanic heritage in the United States have retained elements of their Hispanic culture." The metric can indicate how Spanish, English, or "Spanglish" — English with culturally familiar Spanish words peppered in — may resonate with the particular Hispanic community a brand wants to reach.
Culture is a consideration.
Beyond language, the culture of the community can influence how a message is received. Learning about the targeted community's culture, food, music, and holidays can go a long way in establishing authenticity. Because of the diversity of origins, no two communities will be identical. Some markets might be distinctly representative of culture — like Cuban in Miami or Mexican in Southern California. Understanding these distinctions can prevent embarrassing mistakes such as using a Mexican dialect when trying to reach Cubans in Florida.
While most brands may be tempted to go all out for Hispanic Heritage Month, many community members would be more inclined to reward brands that celebrate their specific holidays.
Family and community are at the heart of the Hispanic diaspora, but the family scenario may not look the same as non-Hispanic scenes. Creative should include multi-generational relationships but should also lean into the emotional connections to make the message more dimensional. Brands that can highlight the good that is the community, along with the role they can play in the lives of the target, will win.
Hispanics are digital-first consumers.
U.S. Hispanics lead in adopting new devices, putting them ahead of the curve when it comes to digital media. Despite being vastly underserved, they are power users of mobile and over-index in video consumption. The opportunity to reach them is wide open. They consume all forms of digital content, from articles and social media to digital entertainment through streaming video and audio. Understanding these digital habits and connecting through the channels they use is the key to reaching them during the many hours they spend connected online.

Proven Marketing Strategies Work.
Brands can often make the mistake of ignoring traditional marketing strategies when approaching a new audience, but proven strategies can still be effective.
Ensure you are marketing something your target audience will want.
Understand the motivations of your target audience.
Find the best channels for the delivery of your message. Where do they find information and inspiration?
Ensure your message is appropriate for the channel.
Fine-tune your targeting. We're not all the same person with identical wants, needs, and desires.
Be authentic to your brand and the community.
Be Ready to Serve Your New Customers.
If you successfully create effective communications and connections with your new community, you will want the experience to match your promises. For example, pre-identify Spanish-speaking team members if you decide to run Spanish language ads. Be ready to activate them as needed. Ensure the materials and information that aid a guest through their journey are accessible and usable in the required language. Ignore any of these, and you will set up your new guests for disappointment and team members for frustration.
Much can be said about the size of the Hispanic market and its spending power. The importance of this segment to our businesses is undeniable.