Every day, I get an email with news that some large company has put their account under review or news that an agency has snagged a blue ribbon client. That should tell you that brands often become "unhappy" with their agencies. Some agencies find it hard to evolve to keep up with the growing demands of chief marketing officers. There are boutique agencies popping up all over the map, often able to move more nimbly and at a lower cost.
Either of these reasons gives marketers pause to consider changing agencies or getting more resources on their teams. Even if these marketers see no change ahead, the last thing they need to be saddled with is the status quo. Truth be told, the tools of the casino marketing trade are not as unique as we would hope. Our agency partners can help us find a way to break through the clutter of messages and breathe freshness into even the most tried and true promotion.
So, how do you choose among the many agencies? How do you decide which will be your partner in growth?
If you need to hire an advertising agency or marketing partner for your casino, it pays to take the time to do an in-depth audit of your business and your needs, as well as a review of your potential partner (and some of this may surprise you.) This guide will walk you through the crucial steps in finding a new agency so that you can find a partner in your goals rather than just a vendor.
First, Identify Your Business Goals and What You Need from an Ad Agency, Marketing Firm or Consultant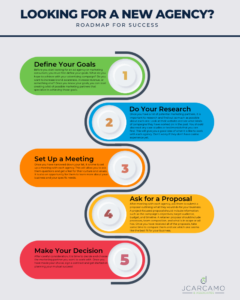 Start with WHY you need a new marketing partner. Be honest. Some clients want an ad agency that will wow them at every turn. Unrealistic, and I've worked with some great creative folks. Some clients want the agency to read their minds. Unfair. Being a bad client is actually a thing. Some clients don't have the resources and need an experienced marketing consultant to be their ad hoc marketing team. Do you want them to be specialists or generalists? The answer will determine your direction.
Before selecting the perfect ad agency or marketing partner for your business, you must identify your goals and the required services. What is the specific problem you are trying to solve with this partnership? Do you need help creating campaigns and content, or would you like assistance with analytics and reporting? Consider your potential outcomes, including the results you expect from the agency's work. Knowing what kind of services and outcomes you want can make it easier to narrow down which agencies are best suited for your business needs.
It Starts with Strategy
An important step when designing any marketing strategy is clearly defining your marketing goals and objectives BEFORE contacting a consultant or agency. This will allow you to recognize the necessary building blocks you will need to have in place for a successful collaboration. Failing to do this could result in a disconnect between understanding (or assumptions) and your desired outcomes, causing frustration and delays. Defining these key metrics gives agencies and consultants the information they need to create an accurate proposal that meets your needs and expectations, allowing them to develop an execution plan that works for you.
Having realistic and achievable goals and objectives in place is essential before beginning to communicate with potential marketing partners. Without a tightly-defined understanding of what you're hoping to achieve through marketing, agencies won't be able to generate the type of targeted campaigns you need for success. Knowing exactly when, why and how agencies and consultants can or should be part of the process can mean the difference between simply filling space or creating effective marketing programs. Through well-crafted objectives, you can decide which potential partners fit your brand's needs; from there, you're ready to build relationships that will help bring your brand forward.
As the marketing leader, you must know exactly what you want from a marketing partner while maintaining flexibility in your scope of work that will allow for the expert suggestions of the partner you will work with.
Benefits of working with the right marketing partner
Many businesses recognize the value of having a marketing partner, but not all marketing agencies are alike, nor are all consultants alike. The right partner can bring experience, skills and insights that help drive your business forward – reaching your goals in terms of brand development, visibility and guest retention.
By having a reliable and trustworthy marketing partner, you can develop strategies, further optimize performance, and get ahead of the competition.
Be honest about your expectations and how much time you can put into the relationship. Now, you have a roadmap for your search.
Next, Establish a Budget with Realistic Expectations
Establishing a realistic budget is a crucial step in finding the right advertising agency or marketing resource for your business's needs. Knowing exactly what you can spend allows agencies to make recommendations based on your goals and capabilities, allowing you to find cost-effective solutions that best suit your needs.
Consider the size of your company, resources available, and previous marketing campaigns. A more expensive resource could provide advanced services such as analytics, while an entry-level one could help you create basic creative, messaging, and ads. Ensure you can communicate your budget to secure the best possible results without overspending.
Before actively looking for agencies, consider any potential costs associated with campaigns, contractor fees, and equipment rentals. Having an established budget in place can help narrow down options, making it easier to identify the perfect partner for your marketing needs.
Budgetary considerations will also help assess the amount of resources agencies and consultants can allocate for strategy, creative, research and measurement. Doing so will ensure you can select the partner who will provide the best value for money in terms of cost and achieve optimal results.
Then, Research and Compare Various Ad Agencies and Consultants
Make sure you do your due diligence when researching potential marketing partners. You will want to look at the firm's portfolio to understand its background, capabilities, and customer base. As you go through the vetting process you will want to compare their rates and services with other agencies to ensure you're maximizing your investment. You will also want to understand their process, how they handle difficult issues, and how quickly they solve problems to ensure smooth communication throughout your project.
Doing upfront research will save you time in the long run – allowing you to find the agencies and consultants that make sense for your company more quickly.
Agencies and Consultancies are Not Built Alike
There are several different types of ad agencies to choose from when selecting a provider. It is important to have a clear understanding of the different types of agencies, their respective areas of expertise, and what they are capable of delivering. Knowing your needs will help identify the right fit, as agencies specialize in various aspects of marketing.
Full-service agencies can provide integrated marketing services, such as brand strategy, media planning and placement, creative solutions, analytics and reporting. Creative agencies specialize in creating original content, including ads, commercials and collateral materials such as brochures or catalogs. Media buying agents are specialists in securing valuable prime spots for your print, radio or television campaigns. Finally, digital ad agencies focus on online mediums such as sponsoring applications, banners and social media messages.
Marketing consultants provide brand strategy, and they can often bring a variety of specialized resources into the mix.
A marketing consultant is often hired temporarily to help bolster marketing efforts, handling various tasks from development to implementation and analysis. Marketing consultants are typically called upon when an organization may be struggling in the development or execution of an effective marketing strategy. Marketing consultants can often be used to enrich an in-house marketing team or to upskill them.
Additionally, you must determine whether you want an agency or consultant to take on one-time assignments or if you need long-term services. Doing your homework upfront will save you time in the long run and ensure a successful collaboration between your business and the agency or consultant that you choose.
Keep an eye out for work that feels like it has a DNA you'd like infused in your work. Talk to those businesses about their experience working with their marketing partner. Is the partner respected? If it's a small or young agency, look at the leadership's background. What did they do before this point?
Create a Shortlist
Selecting the right marketing agency can be tricky, given the many agencies and consultants available and the many services they offer. Creating a short list of potential partners is an important step when selecting the right fit for your organization. To achieve the desired results, it's important to understand exactly what will be provided in terms of marketing and advertising consultation, as well as make sure they meet your specific requirements. That's why seeking out agencies with a portfolio that best suits your needs, taking into consideration budget and timeframe, can help you narrow down the selection process. Doing research beforehand will ensure that you find agencies equipped with the proper experience and expertise that fits within your limits while meeting the established goals.
It is also helpful to speak with peers who can make informed recommendations based on similar companies. Lastly, don't forget to research agencies online since an impressive website is usually indicative of an agency's capabilities. Taking due diligence with this process will help ensure you narrow your list of agencies best suited for your business needs.
Take a look at their case studies. Ask for them if you don't see them on their website. Notice if their cases match some of your challenges (even if they are not in the casino industry). At this point, you'll start to generate a list of capabilities that are important to you which will formulate a report card for you.
Meet with Potential Agencies for an Interview
Once you've narrowed down a few potential marketing agencies, it's time to invite them in for an interview. Before the meeting, have each present a detailed proposal with information on their pricing structure and expected results. During your meeting, make sure you ask the agency questions that focus on project management, customer service, and ideal processes. Be sure to take notes so you can compare answers from multiple vendors later on.
Initiate a formal process.
Going through a formal RFP process allows an agency to show you its creative breadth and a consultancy to show you its strategic and tactical capabilities. You will also uncover how they look at success and the processes and tools that will help them help you. A solid RFP process should help you identify how a marketing agency or consultancy can deliver the formal requirements of your selection.
Now, here's where I go off the playbook. The RFP process generally includes reducing the list to a top 3-5 potential partners. Typically, a brand asks these agencies to present their capabilities (often with creative samples or case studies) in person at the brand's location. You should visit them for this step. Why? Because it will help you understand the very important qualities that never make it onto a PowerPoint presentation. It will also help you answer a couple of important questions.
Are they talented? And do they have the type of talent I need? Let's face it, casino marketing can run the gamut of the same song, different tunes to really extraordinary, but if you want extraordinary, you won't get it if there is a lack of talent. The pitch will likely be given by the CEO, along with (perhaps) a business development person or a creative director, but we all know the day-to-day contacts will play an important role in your account. Take time to get to know the team that will service and touch your account. What is the energy in the creative pit at the agency? Where are they finding inspiration as individuals and as a group? How do they brainstorm greatness?
Is there chemistry? No, seriously. You want to know you have chemistry with the head of the agency, the creative team, and most importantly, your account team. When you ask yourself if you can partner with them on projects from a car giveaway to a rebranding, you want the answer to be a resounding "Yes!" If you don't like them, you'll find yourself only giving a half-hearted effort, canceling meetings and ignoring emails. Hiring an agency of record is a marriage of sorts. You'll spend much time together building a future, and splitting up can be as painful and expensive as a divorce.

Build a Productive Relationship
Selecting an agency partner that will help you reach your goals is only the beginning. Building a productive relationship takes passion and communication
Going the extra mile and communicating effectively will help you get the most out of the relationship. 
Getting great advertising
takes honesty and trust.
The thing you have to be honest about is what you're selling and how you're going to sell it. Remember, selling a fully rounded four-star experience is easy until guests realize that you are somewhat south of those four stars. Selling a small riverboat casino may not be as glamorous, but it is appealing if done correctly. If you are honest with yourself and your agency is aware of the strengths and weaknesses of your offering, you can get great advertising that can help you move the needle.
The best way I've found to build trust is to be a good client. Yes, agencies aren't the only ones that can be good or bad. Clients can be that way too. I have been both, but I hope that I learn from my mistakes.
Additionally, remember that trust is a two-way street. Your agency has to trust you. They must trust that you will not blow up their ideas when they don't give you what you think you're looking for. They have to trust that you are being honest with timelines and restrictions. Sudden left turns can easily put you on a different path and cost you and the agency time and resources.
The most important thing to remember when looking for a marketing partner is that they should be the right fit for your business. There are many factors to consider, but if you take the time to do your research and ask the right questions, you'll be well on your way to finding a partner that can help you achieve your marketing goals. If you need help with your search or have any questions, our team at J Carcamo & Associates would be happy to chat with you about how we could be the right fit for your business.
Give us a call today!
Summary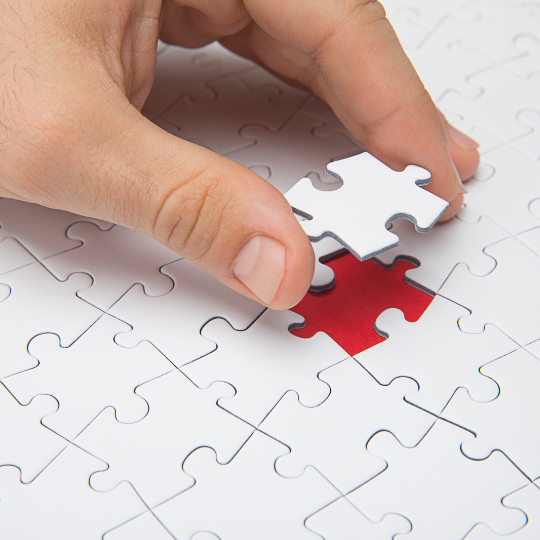 Article Name
A Step-by-Step Guide to Finding the Perfect Ad Agency for Your Casino
Description
If you need to hire an advertising agency or marketing partner for your casino, it pays to take the time to do an in-depth audit of your business and your needs, as well as a review of your potential partner. This guide will walk you through the crucial steps in finding a new agency.
Author
Publisher Name
Publisher Logo