As marketers, we are constantly challenged to stay on top of changes that will make us more valuable to our employers. Constant learning and skill development are crucial to success, no matter the industry. To understand the ever-evolving landscape and to implement strategies that attract and retain customers, effective marketing training must be on all of our to-do lists.
Most of us have weaknesses, but training can improve and strengthen us. A training program that inspires you and your team will lead to higher engagement and retention. There are several ways you can develop training for your team. Here are seven (because casinos, duh) of my favorite approaches to learning. They are effective and easy to implement.
Marketing Training Tip: Read Marketing Books
Books are a treasure trove of knowledge and insights from experienced marketers. Create a small lending library in the office and stock it with some books on your reading list or those you have already worked through. And if you have highlighted or made comments in the margin, your staff will love them even more. I looked at my library when I came up with a list and realized I had read some outstanding books.
Some of my favorite go-to's are
Then there are some classics to expand marketing horizons. 
Influence: The Psychology of Persuasion

 by Robert Cialdini

Contagious: How to Build Word of Mouth in the Digital Age

 by Jonah Berger

Epic Content Marketing

 by Joe Pulizzi

Permission Marketing

 by Seth Godin
Another way to bring books into your training is to try a book club. It will keep people focused on the book, and you will help each other understand the content, possibly creating plans to implement the concepts.
Marketing Training Tip: Attend Conferences:
Industry conferences offer valuable networking opportunities and exposure to the latest marketing trends. A road trip with my marketing team has always been one of my favorite outings. Whether pulling weeds to help a local charity or betting on who would be the last one at breakfast, we had a lot of fun and learned along the way together. Taking your team off-site to an energizing conference can introduce them to other marketers and thought leaders in the field, both in and out of your industry.
Here are some notable conferences that casino marketers should consider attending.
Keep an eye out for a new Digital Marketing for Casinos Conference.
Take lots of notes, tweet, TikTok and Instagram during the events so that everyone will be jealous of you, but more importantly, take the opportunity to bond over a new idea (or two) with your team.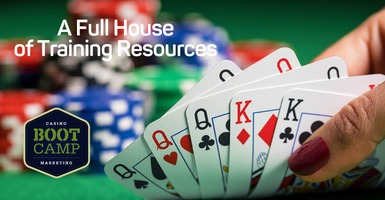 Marketing Training Tip: Explore Virtual Training Opportunities:
In today's digital age, virtual training provides flexibility and convenience. Consider participating in webinars, online courses, and virtual workshops tailored to casino marketing. Many free online training and certifications will expand your team's skills at their own pace.
I mentioned some favorites in a previous post, Tools for the Modern Marketer, but I have some marked for specific days and times on my calendar. I make an appointment so I keep it from slipping by.
Hubspot Academy

 offers a variety of FREE certification, documentation and training courses. Each course is broken down into easily consumed modules that can be tackled anytime.

Google knows its analytics platform is a great deal to understand (especially now that we're all relearning.) So, they offer an 

Analytics Academy

 to guide you from beginner to advanced, and of course, they are web-based short modules that can be reviewed according to your schedule.

LinkedIn Learning

 has over 13,000 courses covering a variety of current topics. 
Marketing certifications and online courses allow your team to learn at their own pace but check in periodically to ensure no one is left behind or drowning.
Marketing Training Tip: Blogs and Organizations
Joining organizations and reading informative blogs can provide you and your team useful, practical learning and training opportunities. Doing so lets you gain valuable insights from industry experts and stay up-to-date with the latest market trends. Furthermore, these platforms offer a cost-effective way to equip yourself with the necessary knowledge and skills to succeed in your field.
Blogs offer information on various topics, including marketing training, that can be easily accessed at your convenience. Professional organizations provide an opportunity to network with like-minded individuals and attend events offering education and training. Both resources can benefit both you and your team by providing valuable knowledge and skills. Not only do these opportunities help boost employee learning and development, but they also elevate the overall performance of the group. By continuously learning and staying up-to-date with the latest industry trends and techniques, marketers can better position themselves for success.
Industry sources such as Adweek and eMarketer offer valuable insights, case studies, and analysis on the latest trends and best practices in marketing. Newer resources, such as Morning Brew, can break down the latest trends in a way you can understand and use.
These are the newsletters I always flag and share (even if I don't get to my email until late at night).
HubSpot's Marketing Blog

: Thanks to this newsletter, I learn something every day. Whether it's SEO, social or analytics, the blog gives you a good look at each topic in a quick read.

MarketingProfs

 sends me practical insights each day. Divided into five to seven categories, they are short reads, and when I have a little more time, I can get even more from their long-form content. You might be inspired to spring for the membership. It is worth it.

American Marketing Association

 has a wealth of resources to aid your marketing training and keep up with the latest changes. Local chapters provide networking opportunities and a way to share best practices outside of your specific point of view.
Marketing Training Tip: Blockbuster Marketing
Some of the best marketing and business lessons can be found in dark places. I mean the movie theater! Have a little fun at the movies. Take a field trip to the movies and then have a post-movie discussion. If you are struggling in your market or are trying to figure out how to do more with less, I highly recommend Moneyball.
From classic to comedy to drama, there are lessons everywhere.
American Gangster: In the middle of this emotionally charged film, you learn about the importance of brands.
Bonnie & Clyde: "We rob banks." Now THAT is a focus. You can't be everything to everyone. The lesson here is to focus on your strategy and to be proud of what you do (which brings to mind an entirely different career lesson).
Groundhog Day: Carl Spackler shows how the best marketing tells a story that captures the attention. "Cinderella story. Out of nowhere. A former groundskeeper, now about to become the Masters champion."
And who could forget that famous deli scene in When Harry Met Sally? "I'll have what she's having." The lesson? You can still understand the value even if something looks (or sounds) one way. You have to investigate some things.
Pop some popcorn and go to the movies (or stream something).
Marketing Training Tip: Join Industry Associations:
Joining industry associations comes with many benefits, particularly in terms of marketing training. These organizations offer a wealth of resources, including webinars, workshops, and conferences, that provide members with critical information and training on the latest industry trends and best practices. By joining one of these organizations, you can enhance your knowledge and skills, obtain certifications and credentials, and build valuable relationships with other professionals in the field.
Consider becoming a member of organizations like:
Casino Direct Marketing Association

 I just became a board member, and we are working on adding many training opportunities. So, if you have any thoughts, send them my way.

There are also locally based gaming organizations that can provide great benefits in training and skill enhancement.
If your organization is already a member, start taking advantage of the resources available as a benefit.
Marketing Training Tip: Seek Mentorship:
Mentorship can be crucial in marketing training, providing aspiring marketers with valuable guidance, support, and expertise from experienced professionals. The marketing field is constantly evolving, and having a mentor can help individuals navigate the complex landscape and develop the necessary skills and knowledge to succeed. A mentor can offer insights into various marketing strategies, industry trends, and best practices, often not taught in formal education or training programs. They can also provide personalized advice and feedback, helping mentees identify their strengths and areas for improvement.
Finding the right mentor requires some effort and consideration. First, it is crucial to identify your specific goals and areas of interest within marketing. Understanding your goals will help you find a mentor whose expertise aligns with your needs.
Look inside first. Consider looking inside your organization or the industry to identify potential mentors. Networking events, conferences, alum organizations, and online communities are great places to meet experienced marketers who may be open to mentorship.
When approaching potential mentors, respect their time and communicate your expectations and goals. Establishing a regular meeting schedule and setting clear objectives for each session is beneficial. Remember, mentorship is a two-way relationship, so be proactive, show gratitude, and be open to feedback and learning opportunities.
Engaging in regular discussions and actively seeking guidance can significantly accelerate your marketing growth. With the right mentor, you'll have the support and guidance to excel in your marketing journey.

Stay Informed of Industry Trends
Staying abreast of industry trends is crucial for effective marketing and can enable you to stay ahead of the curve and make informed decisions. By keeping up with the latest developments, marketers can adapt their strategies to align with changing consumer behavior, evolving marketing dynamics, and emerging technologies. This knowledge will empower you to identify new opportunities, develop innovative campaigns, and maintain a competitive edge.
Continuous training is vital for personal and professional growth as a casino marketer. By following these seven effective marketing training tips, you and your team can stay ahead of the curve and excel in the dynamic world of casino marketing. The key is embracing a lifelong learning mindset and adapting your strategies to the ever-changing industry.
Summary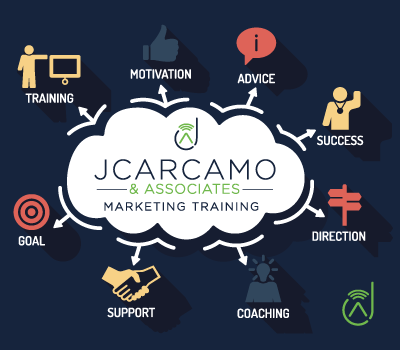 Article Name
Description
Seven favorite marketing training tips (and a little lagniappe) that are easy to implement and will inspire your employees and improve retention and performance.
Author
Publisher Name
Publisher Logo