​With nearly 1000 casinos in the United States, the battle for the gaming dollar requires a robust casino marketing strategy and the resources to implement it. Moreover, as regular and new gaming customers developed or changed habits while sheltering in place just a short three years ago, how we position and market ourselves and the experience we provide are more important than ever.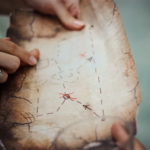 Like any unique industry, casino marketing requires different strategies than traditional brick-and-mortar storefronts. However, there is much to learn from other sectors, particularly those providing entertainment options.
Before you can start implementing your marketing plan and tactics, you will need a solid strategy to guide you. Today, I am sharing a few approaches to set your casino business up for success. Read on to learn how to play cards right from the beginning.
Like most businesses, our goals are always to increase revenue while lowering costs. Unlike most companies, the similarity between competitors can be striking and can often slip into commoditization.
The first step is focusing on who you are.
Identify (and Accept) Your Casino Brand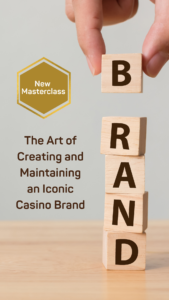 Understanding your casino brand starts with taking the time to assess your objectives and values properly. Taking a proactive approach that involves researching the brand from all angles can help you to get an accurate understanding of its offerings and target market. This analysis should include assessing customer feedback, competitor reviews, and brand messaging.
Branding and everything that goes into it is vital to any casino. With the vast number of brand messages consumers are exposed to daily (perhaps even hourly), strong brands will stand out in a crowd.
Identify Your Casino Brand Personality
Once you have identified what sets your casino brand apart, you can begin to understand your brand personality and how it can aid you in reaching customers that will identify with your brand values and promise.
Your personality defines how people feel about your casino and interact with it. What kind of experience do you want them to have when they visit? In short, this is the aura and culture of your brand or the human-like characteristics that set it apart from the rest.
It helps to brainstorm with your team the image you want your casino to portray. What initiated you to open a casino in the first place? What is the "why" behind your mission statement, and what drives your business?
Will you project a vibe that's over-the-top luxurious, and opulent? Or, will your casino be a smaller, more intimate operation? The personas you're targeting can help answer that question and help you pinpoint the ultimate brand personality you'll display. Once you land on a brand type, ensure it is consistent throughout your operation, from the back of the house to the signage on your curb.
Understand Your Audience and the Role You Play in Their Lives
Identifying your target market is the next step in creating a successful marketing plan. The use of brand persons will help you tailor your marketing efforts to reach the right audience.
The gaming industry is unique because there isn't a one-size-fits-all buyer persona. Every day, people will walk through your doors with unique wants, preferences, and objectives. To retain their business and keep them returning for more, you'll have to know how to create an environment that caters to everyone's needs while still feeling personal.
Sound impossible? It isn't when you take the time to brainstorm.
Identifying your buyer personas may seem daunting, especially if you are opening a casino in a new market or just starting your casino marketing career. How can you anticipate the kind of people who will frequent your facility?
To start, check out this Las Vegas Visitor Profile compiled by the Las Vegas Convention and Visitors Authority (LVCVA). In the report, researchers break down casino visitors into four consumer segments that fit most markets, particularly regional destination markets. These include:
Convention Visitors: 8%
Package Purchasers: 13%
General Tourists: 62%
Casino Guests: 17%
With this data, you can get a clearer picture of the guests you might encounter on a given basis. Consider how these segments could translate into buyer personas for a regional destination casino.
General Tourists = Vacationers
General tourists are those who come to your city to explore all that it has to offer. You can attract this crowd by offering hotel bookings and package deals to ensure you are one of their many stops. In addition to gambling at your casino, they also plan to discover local eateries, cultural sights, performances, and nightlife.
Package Purchasers = Entertainment Afficiandos
Package purchasers differ from general tourists. They are most interested in experiencing as many of your locale's entertainment options as possible. While they will still do their fair share of exploring, these visitors are also buying groups of tickets to see shows, attend dinner theaters, go to concerts, and visit nightclubs.
You'll catch their eye by upping your entertainment game. In addition to basic casino games, how can you make the entire experience as engaging and eye-catching as possible? Events and bookings (e.g., bands, comedians, celebrities) will be most effective at piquing their interest. Consider also how you are positioning your entertainment.
Casino Guests = Gamers
Visitors will also come to your city specifically to check out its gaming options.
More well-versed in the industry than others, they will analyze your casino and inquire about specific machines and games. You can lure this buyer by hiring staff who can deliver excellent gaming content and help establish your casino as relevant, on-trend, and high-tech. These "experts" are your daily visitors, whether you are in a destination or local market.
Convention Visitors = Business Leaders
If you operate your casino as part of a resort facility, many visitors will walk your floor on their way to a meeting in your showroom or conference room.
You can turn that business into casino income by creating an entertaining and client-friendly environment that executives will appreciate. From nightlife and entertainment to business event planning services, the key is to balance pleasure and professionalism.
Referencing your buyer personas, consider how each group communicates and their communications preferences. How do they talk? What kinds of problems do they face? To succeed, your brand personality or identity should mirror that of your target customer base.
Explore the Team Member and Guest Journies for Brand Alignment
Your brand is your culture. Moreover, your culture is your brand.
Casino brands have the most significant opportunity in the back of the house. The integration of employee and guest experiences has never been more vital. When that is done, the part we seem to struggle with the most – creative and graphic expression – becomes much more manageable.
Ultimately, you want to create a brand experience for employees, from how they are hired to how they are on-boarded and trained to how they do their jobs and interact with guests and each other. You must design the employee experience with the same principles you use to design the guest experience and ensure the workplace embodies your brand attributes. In essence, "you engage your employees in the way you expect them to engage your guests," says brand culture evangelist Denise Lee Yohn.
Internal Brand Alignment
Internal brand alignment is bringing the brand strategy into focus through employee communication, education and enrollment of your team to refocus efforts on creating positive business results through delivering the brand promise to guests at every level of the organization. This results from clearly articulating the brand positioning to everyone inside the organization and ensuring stakeholders consistently agree on what is "on brand" and, conversely, what is not. Correctly done, this process and the result of everyone sharing a common understanding can be contagious.
Employee Brand Engagement
People often confuse employee brand engagement with general employee engagement (or commitment to the company or job). Employee engagement generally manifests itself in relationships with co-workers, how they view their jobs and careers, and their participation in work activities. Engagement efforts often make employees feel satisfied with their benefits and environment so that they will be encouraged to do a great job. These efforts may vary in success, but they must be intertwined with the brand values to motivate employees to create the type of guest experience that will advance the brand. Employees engaged with the brand will think and act "on brand." Employees become your best brand ambassadors because their belief in the brand promise is deep and emotional. They make decisions by considering what is suitable for the brand in the long term rather than choosing what will produce short-term results.
Time to Start Building Your Customer Database
Database marketing is not exemplary for every industry niche, and many wonder why we still rely on it as the foundation of casino marketing. The list of various casino guest personas reveals why.
Some companies cater to a very narrow audience group. For instance, a makeup brand might target tween girls ages 10-13. Conversely, casino marketers are challenged with appealing to everyone, from busy business executives to die-hard gamers to casual entertainment seekers.
As such, it helps to maintain a database that tracks who's visiting your space, where they came from, how much they're spending, and other key demographics. Today, there are multiple resources available to help you set one up. These range from simple Customer Relationship Management (CRM) systems to intricate business intelligence tools that leverage Artificial Intelligence (AI) and similar technologies to forecast future sales. The overarching goal of setting up your database is to get your players cards into the hands of people you know will use them. You could have the contact information of everyone in your city. Still, unless your approach is targeted, those efforts won't generate the expected revenue.
While you might cater to a broad audience as a casino marketer, it pays to know who's accessing your content and how they interact with it. That is why a content management system (CMS) may also prove beneficial in addition to your CRM system. This is a form of software that helps you manage your digital content, including your online marketing strategies.
Indirect vs. Direct Casino Marketing
What are the most effective forms of initial outreach in terms of online and offline marketing? If you are in the process of opening a new casino or adding a new amenity, indirect advertising techniques can help you generate mass appeal and build brand buzz. These can range from broadcast, social media marketing and search engine optimization (SEO) to news articles, blog posts, and word-of-mouth referrals.
Because you more than likely already have known customers, you can target these individuals more pointedly through direct marketing. Conventional approaches include our monthly mailers, but consider how everyone is currently adapting to new communications channels and test SMS or Facebook Messenger to stay in touch with customers.
Identify High-Worth Visitors
Once you open your casino and start generating revenue, your customer database will begin to take hold. Post-pandemic, our databases look very different. Your database will become a treasure trove of data you can use to serve your customers better.
You will want to revisit some questions you last asked a while ago. Who frequents your casino the most, and which of your identified buyer personas do they fit into? What are their behavioral patterns and average spending limits? How long do they spend at your property, and what feedback do they leave?
Without a dedicated database resource, the numbers in your CRM spreadsheet could look like a different language. It pays to invest in a staff position and external support who can mine the massive amounts of data for the key insights you need to drive and direct future growth.
An effective database strategy will also help you identify your high-worth customers. These are the visitors who contribute the most to your day-to-day revenue, so it's critical to retain them. Once you know who these gamers are, you can begin to build a long-term relationship with them that extends past generic direct mail offerings.
Prioritize Connection
Keeping a steady stream of top-spending players rotating through your door requires more than just an eye-catching spread in a magazine or a slick mailer. It requires a personal connection that begins when they step onto the floor.
Visitors, especially high-worth ones, expect recognition for the money they're spending at your casino, and a welcome or outreach team can help bridge that gap. An outbound phone call within 24 hours of their enrollment can go a long way toward helping your brand appear as personable as possible.
An ideal casino host can act as both an effective salesperson and a knowledgeable customer service associate. Hosts carry the brunt of the burden for personalization and outreach. They are the ones who will extend complimentary services and one-on-one support for the high-value customers that keep your casino in business.
Ultimately, the key is to do more than understand who your customers are now and how much they are worth. You also need to know their needs and motivators to make sure they keep returning again. Establishing a personal connection at the onset can help you get insight into these factors.
Focus on Retention
After a while, there might come a time when your once-active customer base begins to dwindle a little, and customer churn increases. For instance, a regular player who visits your casino twice a week may drop back to only coming once a week or every ten days.
Even if this happens on a smaller scale, it can significantly impact your business. Those disinterested or inactive customers could have attributed a substantial percentage to your income. Without their continued support, you'll feel a financial hit. At this point, ask your team, "What would happen if only 1% of those customers returned? What kind of impact would it have on our bottom line?"
To see that change firsthand, you'll need to dive deeply into what drove the disengagement in the first place. Analyze your gaming offerings and ancillary services, structural facilities, and staff members to identify any weak areas or pain points. Then, look at what competing casinos are doing to outpace yours and potentially draw business away. Then, consider how that uptick would amplify if you managed to get 5% or even 10% of them to return.
(BTW, this will be one of the many discussions we'll be having at Casino Marketing Boot Camp.)
Crafting a Personal Appeal
When you're ready to reposition your brand to maximize new appeal, you can begin sending new marketing promotions to re-earn their trust and business. In addition to direct mail and similar approaches, remember to communicate personally.
Have you upgraded your facility or added a new amenity to encourage customers to return? If so, that's a viable Reason to Call (RTC). Assign your host or outreach team to call visitors who have fallen by the wayside to share the news. Give them a flexible script to include visitor names, and you're one step closer to bringing them back.

Implement Tactics and Evaluate Results
Casino marketing can be tricky, as the industry is highly competitive and constantly evolving. Creating a successful casino marketing plan is essential for any business in the gambling industry. A well-crafted plan will help you attract new customers, retain existing ones, and ultimately increase revenue.
Clearly outline your goals and objectives for your marketing plan. Specific, measurable goals will help you track your progress and adjust your strategy as needed. This could include increasing brand awareness, driving traffic to your casino, or boosting revenue.
The marketing mix, also known as the 4 Ps, is a crucial component of any marketing plan. It provides a solid framework for you to start crafting your plan.
Product. Consider what unique offerings your casino has that set it apart from the competition and how your target audience might mentally classify it as it could impact their view of your "competition."
Price. Determine how you will price your products and services to remain competitive. We will save the slot hold debate for a later date.
Place. Evaluate the location of your casino and how it will impact your marketing efforts. Consider your location in relation to other casinos and any entertainment options.
Promotion: Determine how you will promote your casino to reach your target market.
As discussed above, a 5th P is crucial; that is your People.
Once you've established your framework, experiment with tactics. Here are a few tried-and-true tactics to help you stand out and attract more customers to your casino.
Leverage social media. Social media platforms like Facebook, Instagram, and (yes) TikTok are great places to connect with potential customers and build a loyal following. Use these platforms to promote special deals, events, and promotions and share behind-the-scenes content and customer testimonials. More importantly, use these platforms to create a community of fans.
Create preference with your players club. Reward regular customers with exclusive deals and perks through a players club program. This can include complimentary rooms, meals, and free play, but consider access to events, goods and services to add intrinsic value to the card.
Leverage influencer marketing. Influencers can help you reach a wider audience and generate buzz about your brand. Partner with popular social media influencers to promote your casino.
Host events and promotions. Regularly hosting events and promotions can help keep your casino top-of-mind with customers. This can include everything from live music, and comedy shows to slot tournaments and giveaways.
Optimize your website. Make sure your website is easy to navigate and optimized for search engines. This will make it easier for customers to find you online and learn more about your casino. Your website must be optimized for mobile viewing. Not only is Google rewarding this, but it is also the evolution of how we view sites. Monitor your analytics to understand where your traffic is coming from, how users are experiencing your site and how you can find improvement.
Utilize Email and Text Marketing. Email and texts are becoming two of the most effective ways to reach out to your existing customers, providing last-minute incentives to create visits. If you are considering eliminating physical mailers, you must first establish email and text as the channels that will add value to guests.
Rely on data-driven insights. Use data and analytics to understand your customers better and effectively target your marketing efforts. This can include tracking product utilization, analyzing redemptions and ROI, website traffic, and studying customer demographics. Track results and adjust accordingly.
Measuring Success
Establish metrics to measure the success of your marketing efforts. This must include costs, redemptions and behavior changes but could consist of website traffic, social media engagement, and customer retention. Use this data to make informed decisions about your strategy going forward.
Then, continuously monitor and assess the performance of your marketing plan. Use the data and insights collected to improve, adapt and innovate on the marketing strategy.
Comprehensive casino marketing strategies and plans should include these key elements to be effective. By following these guidelines, you can create a strategy to help drive your casino's growth and success. Remember to stay current with industry (marketing and casino) trends and adjust your plan as needed.
---

Ace Your Casino Marketing Strategy With Us
Casino marketing requires a multi-tier strategy that considers every aspect of your business. It requires understanding your buyer personas, building your brand personality, managing your performance, and focusing on the personal connection above anything else.
As you build your casino marketing programs, it pays to have a marketing expert in your corner. That's where we come in.
Our team is well-versed in this industry and has the tools, knowledge, and resources required to drive your business forward. We offer a variety of in-person, virtual, and workshop training sessions to help you create and follow a customized plan that delivers.
Contact us today to set up a call and connect. In the meantime, sign up for our newsletter to stay in touch!