From your email signature to the sign out front and the way we process guest interactions, a brand launch (or rebranding) is probably one of the most significant undertakings in a marketer's career. It can be exhilarating and overwhelming. And, you can easily lose steam or run out of budget, but you don't have to if you follow a plan. It's not easy. From the strategy to launch, it must be meticulous as well as fitting for your organization.
Because the heart of branding is emotions and people, no two brand introductions are the same, even for the same company.
The bottom line is that it takes a considerable effort to develop a brand/rebrand, the introduction should as well.
"Give me six hours to chop down a tree and I will spend the first four sharpening the axe."

― Abraham Lincoln
However, there are some elements that are common to successful brand launches
A tight bond between the overall business strategy and the direction for the brand. A well-thought brand considers the financial and functional realities of the organization. Everything flows from there.
Supportive, involved leadership. When the most senior leaders demonstrate their support, the rest of the organization joins the movement.
A defined launch and implementation plan. Crossing every T and dotting every I are an absolute must to avoid brand confusion.
Appropriate resources, budget, and time. You must manage all three in order to maximize impact. Often, we concentrate on budget and time, but the quality and reliability of your resources could make the difference.
Clear and consistent communications. I used to have a boss who used the phrase "early and often" as it related to communicating possible challenges. Perhaps clear and consistent may have been a better option. Ensuring everyone is on the same page is essential.
If you look closely, the steps needed are tightly interwoven, sometimes double-backing, sometimes overlapping. If you skip one step, you are absolutely going to have challenges in subsequent steps.
Determine the Type of Brand Launch
The first thing you should understand is the type of launch you need: flipping the switch or a transition (either phased or rolling). While flipping the switch can have the greatest impact, it can be costly in terms of materials and effort.
Transitions can be phased allowing priority touchpoints to be changed in stages, typically schedule according to impact. Rolling transitions are popular because touchpoint are transitioned as part of normal operations (i.e. when materials are reordered or when budgets are available)
Each type of introduction has its own set of needed resources and budgets. Ensure the introduction type matches the timing, resources, and budget available to you.
Audit all Touchpoints
Logos matter, and because most rebranding projects are (sadly) about logos. You must look everywhere.
Marketing signage. Forms. Logos on the paychecks. Website. Roadside signage. The list can seem overwhelming, but the only way to manage it is good old-fashioned checklists. As we mentioned in a previous post. Visual inconsistency can decrease the impact of the changes. A full and detailed inventory of every instance of logo usage is also key in the development of budgets and production schedules. Failure to account for all assets can easily destroy a budget. Look everywhere and get all departments involved in this treasure hunt of sorts.
The audit process may also aid in identifying things that may be better left without a logo, perhaps because it is too small of an application or the production specs make it so you have to give up important parts of your logo. If previous marketers suffered from uncontrolled ELU — or excessive logo usage — this might be an opportunity to cut back and only use the logo where appropriate.
Part of this audit should also be a guest journey map to understand areas where the brand is fully expressed or where it is ignored and how to improve that as part of this launch. In the last year we have worked on guest experience and team member journey mapping, that have left us and our clients a little raw, but they have given us a better sense of how well the brand is coming to life for team members and customers.
Understand Your Brand Story
What if you're changing everything? What if everything team members and customers knew yesterday is going to be different tomorrow?
You must be able to communicate more than a logo change, otherwise, that is all you'll have. In any unsuccessful brand launch, one can usually point to a lack of story. You will hear things like, "we want it in the 'new' brand" when they were referring to basic colors and creative elements.
The most successful projects will be the ones where you are able to distill the brand story down to a handful of commonly used and understood words – easy to communicate and easy to understand.
Identify your audiences (both internal and external) and build a communications sequence. Rolling out a brand will affect every portion of the organization. Having everyone understand this introduction is more than a campaign or graphic change, that may undoubtedly change down to the road, is of utmost importance. Communicating the opportunities to each area of the business is critical to success.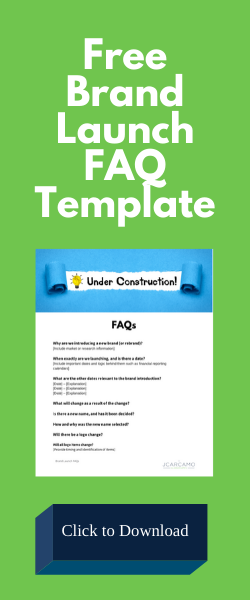 Consider how employees, vendors, stakeholders, and customers absorb and retain information. What is the best channel to tell your story? How will potential changes impact their hierarchy go needs and how can you build comfort for them?
You must adapt the focus of the story to the motivations of each audience. Make them the hero of the brand story. Focusing only on the outward manifestations of the brand (logo, tagline, graphics, etc.) can give you a great look with no substance.
Like the most important aspects of the business, understanding, and visible, demonstration of support from the most senior personnel is essential. I realize this statement can often be gratuitous. So, it's important to define what this level of support means. Doing so will clarify strategic objectives, funding, and resources as well as signaling the importance of the brand to the organization.
Allow Yourself Enough
Allow yourself enough time or enough resources to make up for the time.
Develop a production and communication plan with assignments and status checks. Consider in-house and outside resources. You may have to bring in additional resources. An effective production schedule considers timeframes, costs, roles, and responsibilities for each task. Additionally, a successful plan will prioritize by business unit and asset category. This plan should be well documented
Consider all of the steps and how much each one will take as the availability of resources and everything else they may have on their list of todos. Then, add 20% to the timeline.
There is a myriad of studies that all show the fallacy of project planning — we tend to be overly optimistic and therefore underestimate the time projects take. Did you know the Sidney Opera House opened 10 years behind schedule?
Assign an accountability partner that will keep you on task. When I was part of the opening team of Wynn Las Vegas, I was introduced to such a resource. Each week I met with him to update the status of many moving parts. I still use his spreadsheet, but now it has been transformed into a project in our project management software. Small project or large, a solid platform that gives you visibility to all projects and the progress being made (or not) is worth its subscription price. We worked with Trello on one project, but eventually, we migrated to a very user-friendly tool called Asana.
There are many options you can test until you find the one that works for you. My advice is to try them before you need them.
Develop a proper BSG
A brand style guide (or BSG) will assist your staff and vendors in the appropriate application of the new brand elements.  It should be readily accessible to everyone so there is no excuse NOT to use it.
BSGs will support your initiatives by ensuring actions are relevant to the brand's goals and vision. Programs based on the BSG will help separate you from your competition in a way only you can own. When properly leveraged across the business, your BSG will not only influence your consumer messages; it will determine the way you speak to employees, the investment community, and the community at large. The brand will influence your future and current employees and their perceptions of how you treat employees and candidates. 

Make a splash!
If you're reading this, you are more than likely a marketer. I know you know how to make a splash with customers, But, it's especially important that you do so with your internal audiences. An internal launch is often thought of as a "soft launch" because it can aid in working out any issues with understanding and execution. However, it can be the most valuable part of your brand introduction as the internal audience can become a team of built-in brand ambassadors, positively transforming your company if it is handled well. Don't skip or skimp. Don't just turn this over to another department to execute.
And, considering the importance of demonstrated senior support, the internal introduction phase should be launched by the CEO rather than the CMO. Consider creating an event rather than scheduling a series of meetings or town halls. Walk everyone through the story, from inception to final execution. You've got a great story to tell. Make it a blockbuster of a tale. Encourage feedback and questions. Let them experience the brand in the form of swag and experience. Identify resources for them. You want team members to walk away saying, "I want to be a part of this."
Keep in mind that your internal launch must be about more than "stuff". It has to go beyond a couple of t-shirts or ink pens. The focus must be on the promise your brand is making to them, to customers, and to all stakeholders.
Consider a follow-up brand carnival which encourages each department to create an attraction that demonstrates how they create branded experiences. It's one of my most favorite events. Every department is given the same budget, but the departments are then given free rein to somehow represent the department and the brand experience. Creativity can be off the charts!
Find the skeptics lurking in the corners, and overwhelm them with reasons to believe in the brand.
Launches should move out from there to vendors, shareholders, and guests. Everyone should hear and experience the same message until it's an unstoppable tide.
Customer involvement in a brand introduction can be pleasantly surprising. When the former Isle of Capri Casinos rethought their approach to food offerings, we saw that our buffets could be seasonal and fresh. Located in the "breadbasket" of the United States, the locations were in a perfect position to take advantage of the ever-burgeoning farmer's market movement. Along with the typical new logo, the brand team sought to create brand ambassadors before opening the doors by involving employees in the design of details like selecting new uniforms and customers by giving them a peek behind the construction wall and allowing them to play a role in the development of featured dishes. Vendor partners were turned into local celebrities. And when the company opened its first location, it experienced something that had never happened for the company: a complaint-free price increase as well as a shift to increased cash sales versus comps.
Remember that while a brand launch is an "event," it is not the end of your brand story. Continue to find ways to tell your brand story through your ambassadors and channels. Empower them to deliver the promise in meaningful ways. Then, keep reinforcing the brand forever.