I have lost track of the conversations I have had about casino branding. The one thing I know for sure is that the notion of branding brings up a variety of explanations and definitions.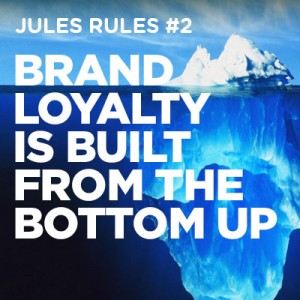 For most, a casino brand starts and ends with the (hopefully) proper use of the logo and adhering to some collection of brand standards. But a brand is SO much more, and an opportunity to refer to Jules Rules #3: Brand Loyalty is Built from the Bottom Up.
While many popular definitions of brands refer to names and symbols which represent a brand, a more well-rounded meaning will note that brands are the image or concept consumers feel when they think of you. The goal is that while your product or offering could very well be copied, that idea or image cannot.
Take water, for example. To most, it is perhaps one of the most easily accessible products, but how many of us pay for that available product to be packaged in such a way as to make us feel something.
Fiji is natural, fresh, and healthy.
Perrier is sexy.
Dasani is lively and fresh.
One product. Three very different brands. Each commands a different price point and appeals to a particular audience.
If your brand is not holding a unique position in your customer's mind, it might be time for a brand review or brand audit.
Everyone Impacts the Brand
Brands extend deep below the surface manifestations of logos and tagline. Branding is a strategic decision that influences not only your communications but your operations as well. A brand can also guide expansion and acquisition decisions.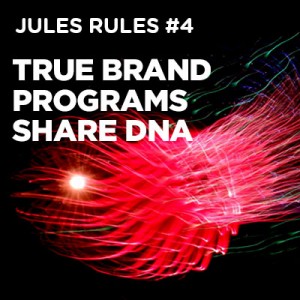 I stumbled across a great analogy. Suppose every action and piece of communication were a street sign pointing in a direction. Would all signs point in the same direction? Would your ad point in the same direction as the transaction at the cashier? Would your HR department's actions be pointing in the same direction?
The point is (forgive the pun) that all interactions have to reflect the brand strategy. All programs related to the brand have to share a common DNA.
Why Casinos Need A Brand
A casino can be a box of slots, even a beautiful one, but unless there is something special about that box, customers will choose convenience or offers or influence from friends to drive their visit. Every casino has slot machines. Most have table games. There might be dining outlets, hotel rooms, or entertainment venues. There are similar sounds and lights, and hopefully, a feeling of luck.
The only thing that will set you apart is your brand. Done effectively, a brand can put you at the top of the consideration list. However, the only thing that will keep you at the top is for your brand to be well-formed and that you have the ability (and desire) to achieve branded experiences across all touchpoints (including the back of the house).
Who Are the Leading Casino Brands (at least IMO)
There are some brands I see doing this well.
Wynn Resorts – From the inception of the Wynn brand, the goal was always to be a leader. When we talked would make decisions about publicity, we always opted for the outlets that our target looked to for what we called "information and inspiration." The choices we made (in designing our first website, for instance) were with a specific audience in mind – the one we know would be attracted to our brand. And, when we received feedback that something, in particular, wasn't created for the masses, we knew we had to stick to our brand.
Golden Entertainment – The company's many casino properties, pubs, and taverns are the anti-Vegas in many ways. Or rather, they are what seldom comes to mind when you think of casino experiences. They cater to what they term the down-to-earth customer. So, when they consider new hires and operations, they look to create a home away from home. This guiding principle influences the company as a whole.
Caesars Palace – From top to bottom, the Caesars brand has stayed focused on treating everyone like a caesar (which is a reason there is no apostrophe in the name) and surrounding them in opulence, nearing over-indulgence. Moreover, as the company has shifted in ownership and leadership, it has managed to maintain its position as escapism for adults.
How to Develop and Reinforce Your Casino Brand 
Although successful brands often have logos that are very creative, read well, and can have applications across many platforms. Actual brand development is about aligning with the business's long-term goals. It must support the overall business strategy. Likewise, the business strategy must be in support of the brand.
Whether you have the luxury of developing a brand from scratch or are trying to create a round peg out of a square one, the first step should include setting measurable goals and determining a baseline measurement.
Research and understand the market for your brand from both an internal and external perspective.
In this step, you should evaluate existing marketing strategies, materials, media, and communications. You must engage, not only your key management but your line employees as well, to gather internal perceptions and explore the variety of possible positionings.
As you settle into WHO you are, you want to ensure that you are creating consistency. While it can often be overwhelming to provide guidelines for every touchpoint, there are some elements you want to make sure you flesh out as they will guide the entire organization.
How do you define or express the brand? What is the brand purpose (or reason for existing)?
What are the brand values? What is the brand's promise to stakeholders?
How is the brand expressed in the management style? How do we communicate internally?
What is important to us?
The team member journey is probably the most important in building your brand yet often left for last (and sometimes never makes the list). When you use the power of your brand essence to position yourself to potential employers, great candidates will instantly connect. In contrast, those candidates who will not advance your brand will innately understand there is a lack of fit.
Additionally, when the brand lives through our back of house environment and connections, it is a seamless transition for them to create a branded experience for customers. Make a list of what fits and what doesn't in terms of the back of the house so you can check for alignment. A great exercise is to make a list of what you will always do, will never do, and what you will always support will help you at this stage.
Next, take a look at the customer experience. The same exercise you did with the back of the house will serve you here. It should be nearly (if not exactly) identical. Comparing both sets of lists may also illuminate areas you may have missed.
Evaluate your pricing strategy to see if it is consistent with your brand.
THEN, you can start on the marketing portions of your brand. With your purpose, values, and promise, you can create your brand positioning statement – a one-sentence way to distill the meaning of your brand. Think of it as your brand's elevator pitch if the elevator were an express one. You want a positioning statement that is meaningful and can be understood by everyone responsible for the brand. It should include what the brand does, the target audience, and the benefit they derive from the brand.
The brand positioning will guide your creative teams in the development of the brand identity package: logo, voice, and visual identity (color, typography, and imagery). Although these elements are often used interchangeably with the notion of a brand, they are only the surface manifestations of the brand. And, while these elements "must look great" and because they are what is most often seen, they must also telegraph the meaning of the brand. They are your tools in attracting the customers that resonate the most with your brand. While this is often thought of as the "fun part" of branding, it can be the most challenging because you have to stay focused on the brand and not whether or not you like a specific color or design.
The critical component at this stage is to understand the brand and the business truly.
Creative testing can be both enlightening and fun. You'll be amazed at the feedback you get. Start with an iterative process over a handful of groups. My experience has shown that by the time you get to the fourth or fifth iteration or group, you will start to see a consistent agreement.
Messaging
Advertising and communications should be based on your positioning rather than your product. Products can often be replicated, and even offered at lower prices. Brand experiences are unique and meaningful.
We've all seen the loosest slots and best service messages. We've seen the buffet specials and concert announcements. A tactical messaging strategy that relies on easily replicated offerings may bring bursts of revenue, but a brand messaging strategy could be the doorway to long-term growth.
Use your positioning work to develop your approach to brand messaging
Casino Brand Building Versus Putting Your Logo Everywhere 
For your casino brand to be successful, it must be believable and deliverable across all touchpoints. Companies around the world spend millions of dollars every year developing brands and refining (or updating) logos. Many of those companies will move to introduce these brands without including a crucial piece – the internal brand.
Creating a clear mission for team members will give them the needed sense of purpose and shift attitudes from "I'm doing my job" to "I'm contributing to something I believe in."
Get everyone involved – from line employees to management. Create town halls and forums accessible to everyone to create a sense of ownership in the brand. Lunch and Learns are a great way to feed the brand soul.
And don't forget your ABCs – Always Be Communicating (on brand).
In our new world, where everyone is a brand ambassador, you want to make sure you provide guidelines. A logo style guide is an essential tool to manage your brand's visual identity. You want to ensure consistency and correct usage of the graphics, but as I've already mentioned, that is only one part of building the brand.
A brand style guide (BSG) will guide all touchpoints and experiences designed to enhance your brand. Programs base on the BSG will help to separate you from your competition in an ownable way. When properly implemented across the enterprise, your brand will continue to influence both all of your stakeholders, now and into the future.

Brand Reviews
A week before Louisiana started sheltering in place, I talked about an impending slowdown. This current COVID- driven slowdown was NOT what I expected, but the need to review your brand is somewhat timely. Consumer spending will certainly not be as robust, but there will still be spending.
The key is to create branded experiences that will be worthy of the limited budgets your customers may be willing to spend.
This moment in time is adjusting our culture in ways we aren't even beginning to understand. How will these changes affect your brand? How will your brand match the newer needs of your target audiences?
A brand review may be appropriate for you at this time. You should be able to answer the following during the process.
Is there a strong connection between what you're saying and what you're doing?
Is your brand moving in the direction you envisioned and need?
Are you poised for growth?
Are competitors changing the market?
Has a competitor moved into your brand space?
Make Them Want to Choose You
Branding not only makes a memorable impression on stakeholders, but it also sets certain expectations. It's a crowded marketplace, and our pool of potential customers has shrunken (perhaps only in the short term). Now more than ever, understanding what your brand can and should look like to meet the changing market is more critical than ever. Our brands must stand out from the crowd, distinguishing us from competitors and spotlighting why we're the (obviously) better choice.
Interested in learning more about casino branding and advertising? Let us know, and you will be the first to receive information on our upcoming online Casino Brand and Advertising Masterclass coming soon!
Summary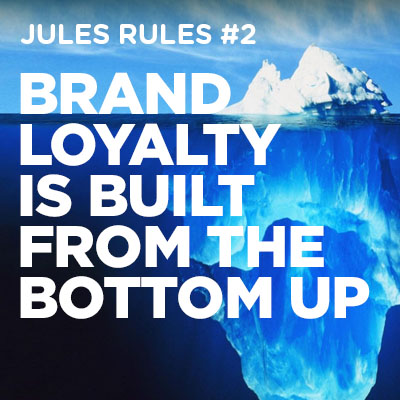 Article Name
Creating (and Maintaining) a Winning Casino Brand
Description
Now more than ever, understanding what your brand can and should look like to meet the changing market is more critical than ever. Our brands must stand out from the crowd, distinguishing us from competitors and spotlighting why we're the (obviously) better choice.
Author
Publisher Name
Publisher Logo