When I first started my business, I thought I would be a great casino marketing consultant. After all, I had spent the last 18 years doing just that. I've worked in group sales, as an advertising coordinator, and more. I've swiped cards for entry into the latest slot tournament. I've announced winners in giveaways. I've registered VIPs. I've moved signs. I've installed signs. Heck, I've even loaded in room amenities prior to opening the doors to a new casino.
What I've done so far as a freelance contractor has really turned my world around. I've had the luck to work with a great event and build their marketing. I've helped an author go the (at the time) non-traditional route of self-publishing a novel. The vertical that has surprised me the most has been casino vendors looking to grow or enter the industry. They have all had good strong products and a huge amount of passion. Interestingly, the thing some have stumbled with is understanding the industry and the nature of an operator's day. In other words, Jules Rules #1: Know Your Audience.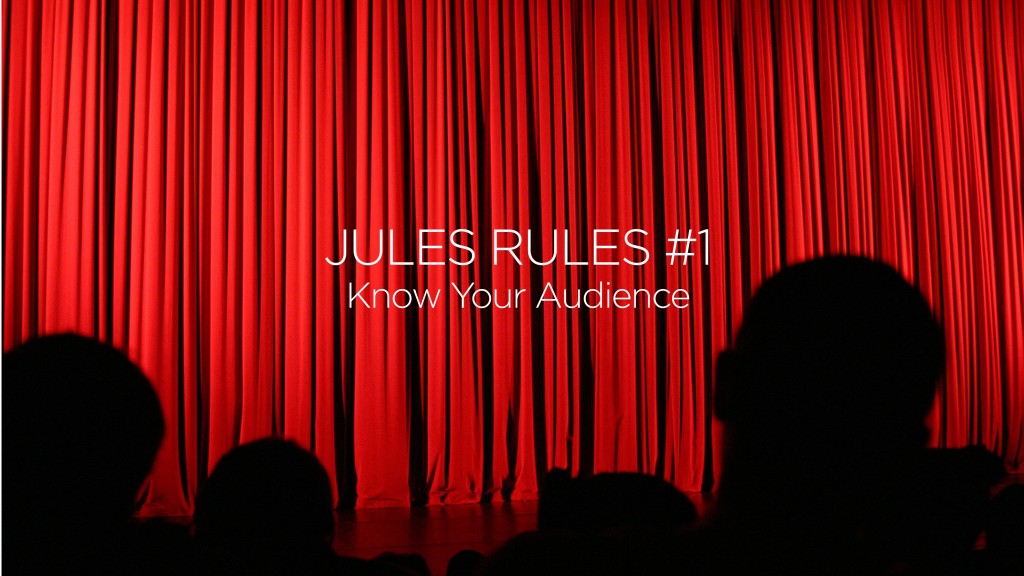 After countless conversations with vendors discussing why (oh why?) their product isn't cause to drop everything, I find I have discovered some common threads worth sharing.
Time
Think about everything a casino marketing director has on their plate. Typically, they are responsible for database marketing, the players club, host productivity, special events, promotions, entertainment and advertising. I once worked with a marketing director who was also in charge of valet! At the end of a long day (into night), one of the last things they probably want to do is return a cold call (or worse yet, get stuck on a 30-minute call because they absentmindedly answered the phone). Thirty minutes in your day may seem like nothing, but you could very possibly be the 12th person that day to ask for those 30 minutes. Buyer personas seems to be a growing trend. Smart marketers have been doing this for a while, but for some this is a new piece of the puzzle. Building customer personas are a good way of understanding your target audience (and a good way to discard those who are not viable targets). A well-developed persona can give you insight into the type of content your potential customer finds valuable and how they consume that information. In addition, personas will help you to identify the best channels for your messages to reach them. Take some time with your agency to identify your buyers and build out their personas. A few days now will pay off with a more efficient use of your time later.
Expertise and Insights
If you are truly selling something that can help, don't be afraid to share your expertise and insight. If you really have a great product, chances are you're not going to lose a customer because you shared a case study or whitepaper with the world. I'm a big…huge…fan of content marketing. I advocate it with almost everyone I work with. Competition is getting tougher and tougher every day, and any valuable information you can provide without the pressure of a sales call has more value to your target audience. Refer to your personas and you'll start to identify the content that will prove valuable. Think about the goals that marketing director is trying to meet each day and the priority in which they need to be met. Use your knowledge to show them a path…to success and your product.
It should come as no surprise that a large majority of B2B buyers are acting like B2C buyers- researching online, asking for recommendations and narrowing their list of possibilities on their own before they ever take or return calls from sales. Some have reported this number as high as 90%! In full disclosure, I not only advocate thought leadership, I develop this positioning for clients. Become a thought leader and share your information and knowledge generously. I want you to consider giving some of your knowledge away without asking for anything (not even an email) in return This is particular important if a quick search online would get your target the very same information without having to give up any information. Ask for information when you're sharing something bigger – a book, a unique tool, etc.
Costs are costs
Yes, your product could very well possibly increase revenue, but at the beginning of your relationship a marketer may look at you as a cost rather than an investment. It's just hard to overcome that mindset. History has told us that there are times when we have to trim costs…tighten our belts. History is what puts you (and me for that fact) in the cost vs. investment mindset. A great route to take is to be involved before and during the budget planning process. That allows costs and potential revenue to be considered. How do you become involved? Be an expert your potential buyer can lean on.
Follow-through
Follow-through means asking about the knowledge you shared. Did it help? Can you provide more insights? It also means following up when you do get the elusive return call. A return call is reason for a small celebration, but not the big one. When a potential client asks for more. Follow up…as quickly as you were to make that initial call. Send them specifically what they requested. Don't substitute it for what you think will sell your product faster and at a higher cost. That's not what they are looking for. They told you what it was. When the time is right, you can add your own messages. This will be the stage where a potential customer subconsciously determines whether you will be a good partner, an ordinary vendor, or just a pain.
Finally, remember you are the expert on your product or service not on their business. Respect them for what they bring to the table day in and day out. Take the time to get to understand them and their business so that you can be a better partner.
I've always looked to have partners, and now I'm in the position to be a partner. Let us partner with you.