We're giving away the marketing books that inspire us. We'll be drawing from our newsletter subscribers and because our lawyer says we need to give people another option, you can enter here, too.
If you're currently a subscriber, great! You don't have to do anything. You're in! If you're not, we would love for you to add yourself by signing up for the newsletter. If you don't want another newsletter, we are sad but understand. You can still enter every month by using the form on this page.
Also, if you have anyone on your team who might like to win a book or two, please share this with them.
April Book of the Month:
Get Scrappy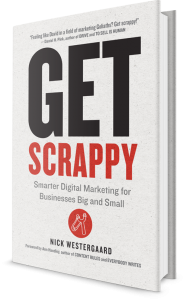 We often come across marketers lamenting small budgets and feeling like David competing against Goliath. Nick Westergaard's walks you through a simple approach that will show you how you can more for less. It's filled with solid advice that can get you through almost anything if you can change your mindset. Getting "scrappy" is an attitude we should all embrace.
We're thrilled to be giving this book away to a lucky subscriber.
You can purchase it here if you just can't wait to see if you win. Please note that we might receive compensation for your purchase.