We're giving away the marketing books that inspire us. We'll be drawing from our newsletter subscribers and because our lawyer says we need to give people another option, you can enter here, too.
If you're currently a subscriber, great! You don't have to do anything. You're in! If you're not, we would love for you to add yourself by signing up for the newsletter. If you don't want another newsletter, we are sad but understand. You can still enter every month by using the form on this page.
Also, if you have anyone on your team who might like to win a book or two, please share this with them.
March Book of the Month:
Competing Against Luck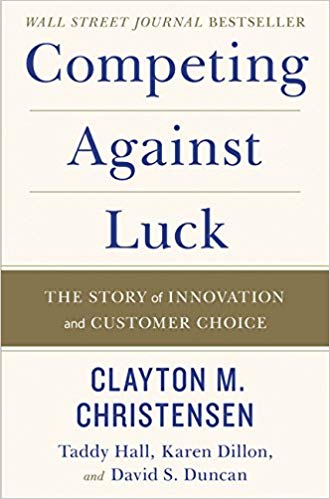 We are LOVING Clayton Christensen's discussion of the role of customer choice and how we can create brands people will want to purchase time and time again. After years of research, Christensen has come to a critical conclusion: our long-held idea that understanding the customer will lead to innovation and growth is wrong. Customers don't buy products or services; they "hire" them to do a job. Therefore, to innovate, we must understand the job our brands are hired to do. His "Jobs to Be Done" approach can be seen in many of the world's most respected companies.
We're thrilled to be giving this book away to a lucky subscriber.
You can purchase it here if you just can't wait to see if you win. Please note that we might receive compensation for your purchase.