We're giving away the marketing books that inspire us. We'll be drawing from our newsletter subscribers and because our lawyer says we need to give people another option, you can enter here, too.
If you're currently a subscriber, great! You don't have to do anything. You're in! If you're not, we would love for you to add yourself by signing up for the newsletter. If you don't want another newsletter, we are sad but understand. You can still enter every month by using the form on this page.
Also, if you have anyone on your team who might like to win a book or two, please share this with them.
June Book of the Month:
Nonbovious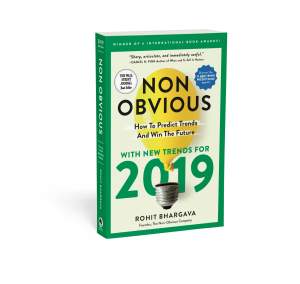 We know what you're thinking. Why are we reading a trend book in the middle of the year? Rohit Bhargava has been amazing at spotting trends, but the best part of this book is about how he goes about it. We think it can be a great tool to use as we plan our marketing calendars.
We're thrilled to be giving this book away to a lucky subscriber.