We're giving away the marketing books that inspire us. We'll be drawing from our newsletter subscribers and because our lawyer says we need to give people another option, you can enter here, too.
If you're currently a subscriber, great! You don't have to do anything. You're in! If you're not, we would love for you to add yourself by signing up for the newsletter. If you don't want another newsletter, we are sad but understand. You can still enter every month by using the form on this page.
Also, if you have anyone on your team who might like to win a book or two, please share this with them.
January Book of the Month:
Fusion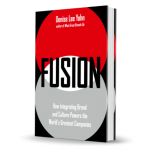 We're starting the year off with a deep look at brands and what we call the bottom of the iceberg. Denise Lee Yohn does it again with her latest book Fusion. It opens the door to the magic that can happen when brand and culture are truly integrated, what it means and how to look at your brand for the opportunity to create something more than a great logo and tagline.
This book is a must-read for every marketer.
We're thrilled to be giving this book away to a lucky subscriber.
Or you can purchase it here. Please note that we might receive compensation for your purchase.