From Marketing Starter to Marketing Champ
Casino marketing training at the speed you need.
The revolving marketing door is the worst-kept secret in the industry. Too often we struggle with finding the right person to fill the marketing needs that will get the results the business needs. Whether it's small markets or small budgets, we've got a way to turn your marketers into the stars they truly are with in-person, virtual and workshop options to fit your needs.
Three easy steps
1. Schedule a 15 -30 minute call.
2. Let us create a customized plan.
3. Revolutionize your thinking and your marketing.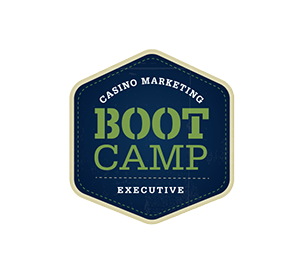 Single Track. A Shared Experience.
Less of a conference and more of a workshop, Casino Marketing Boot Camp is a small gathering intensely focused on brand marketing, strategy, database and leadership – the nuts and bolts that drive revenue.
Three Days – Small Group Consulting – One on One Coaching


Our introductory mentoring program, Taking Charge, is designed for marketers who are juggling tasks and in fear of dropping the ball. We've all been there. Wouldn't it be nice if we had something like this when we were starting? We'll go through the basics that solidify leadership and prepare for an unchallenged seat at the executive table.
7 Modules – including weekly calls, assignments, and tools

We will work with your team to develop an agenda of topics specifically targeting your needs. Pre-work assignments will prepare participants for hands-on participation throughout the program. We know that workshops are always energizing, but great ideas can often be pushed to the side when we get back to work. So we just don't merely show up, train, and leave. We will continue to mentor your team after our time together.

We have loved our time working at casino properties. Great co-workers made the crazy hours a lot better. But, every once in a while, we needed a resource of like-minded marketers for ideas and inspiration – sometimes maybe just to vent. That's why we've created a private Casino Marketing Masters Facebook Casino Marketing Masters Facebook Group. Get inspired. Share ideas. Laugh. Celebrate some wins. Together. Join us.
Ready to get started?
Contact us or schedule a call.