Have a good staff but want to make them better?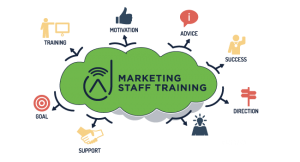 Marketing staff training can turn a mediocre marketer into a great one. Let's train your team in beginner through advanced marketing.
Just like we don't believe in rebranding for the sake of change, we believe in training existing staff. We know what it's like to find a talented marketing person in your market. Maybe the pool isn't as deep as you wish it were. Maybe you're located in a market that's hard to recruit for. Maybe you've got good raw talent that just needs care and growth.
Our associates have worked from Las Vegas to Atlantic City, from Louisiana to Iowa and practically everywhere in between. We've faced these challenges. We've trained some of the best raw talent (sometimes placed into their roles because they were warm bodies) and seen them grow into "marketers"!
Visit our blog archives for our thoughts on how you can power up your marketing team.