The Hispanic population has the kind of buying power you can't afford to ignore. Biz New Orleans recently asked me to contribute a piece about marketing to Hispanics. This is a slightly modified version of what appeared in their April edition.
It seems every time I speak to businesses about marketing to Hispanics, the first comment seems to be around translation, specifically a lack of translated materials. My response is consistently about identifying and understanding the target. Hispanic audiences have evolved since I first started my career in marketing. Back then it really was just a matter of translating my ads and placing them in the "Spanish media" – which was sparse and low in ratings at best.
I'm a child of the Central American migration that has shaped the New Orleans market. My parents, like many New Orleans-area immigrants, came from Honduras to establish a life for themselves and their families. My mother, my aunts and many of their friends came here to study at the old Soule Business College. For those of you unfamiliar with the institution, you may recognize its historic location on Jackson Avenue as the site of American Horror Story: Coven.
WHY MARKET TO HISPANICS
Most data sources estimate the US Hispanic population at about 59 million. At this number, everyone can agree the purchasing power of the segment is not something to ignore. Hispanics in the US represent about $1.5 trillion in annual purchasing power. This is a segment integral to the success of many consumer brands and a valuable one to win, making up a quarter of the population in the top 15 US markets. And yet, in the New Orleans area, this market is even more important. The Data Center's latest reports shows an explosion in population from 2000 to 2015 from 58,545 to 109,553 Hispanics, representing 8.7% of the population, practically doubling in the 15-year span.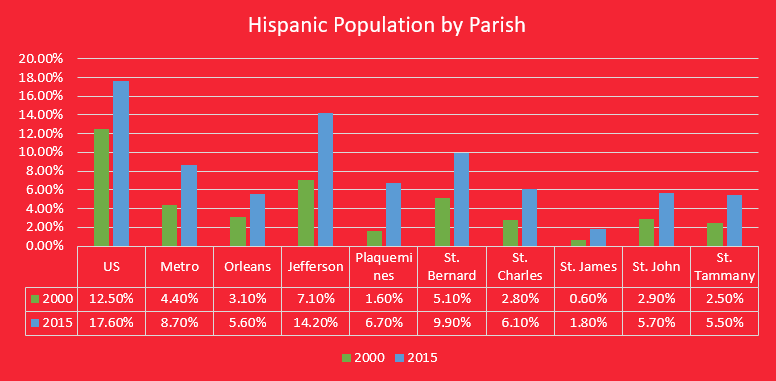 The Hispanic population will account for more than half of the expected growth in the US by 2020, and nearly 85% of the growth by 2060. Likewise, their spending power will grow as well.
According to a report from the Association of Hispanic Advertising Agencies (AHAA), the top 500 US marketers allocated about 8.4% of ad spend to Hispanic efforts, up from 5.5% in 2010. Best in class marketers are allocating more than 14.2% of the ad budget to Hispanic dedicated efforts in Spanish/bilingual media. Notable is the fact that the number of these companies more than doubled from 29 to 68, spending $3.5 billion in 2015.
YET FEW COMPANIES HAVE A STRATEGY
When you look at population, expected growth and examples from key companies, it's easy to assume that every business might have a Hispanic strategy and plan in place. Surprisingly that is not the case. A recent study by Google reveled that although senior-level marketers see the Hispanic audience as contributing somewhere between 11 and 25% of the company's growth in the next three to five years, many did not have a strategy for engaging this demographic.
This segment of the market remains the most attractive yet under-served. Two stumbling blocks were identified. First, is that many believe Hispanic marketing means marketing solely in Spanish. Acculturation has proven this not to be the case as most of the audience is now bilingual or English-dominant.
Unfortunately, this same acculturation impact has also led to the identification of a second stumbling block: that advertising for one equals advertising for all. Because most of the Hispanic audience is bilingual or English-dominant, some advertisers believe they can be effectively reached through the same advertising and strategies that have been developed for general audiences.
Most Hispanics will see much of your general market messages. Few will be exclusively exposed to Hispanic media. It would be a mistake to think your general market message cannot be a convincing one. The impact of seeing a Spanish-language message is to amplify your general market message. You must ensure both work together. Using the usual channels but keeping the culture in mind is of utmost importance.

A LOOK AT THE MARKET
While the local market has exploded with growth and opportunity, a look around the country by comparison shows a distinct difference in the composition of the populations. The US Hispanic population has been driven primarily by immigration from Mexico, where as the local market is over represented by the Honduran population, living mostly in Jefferson Parish. While all are from a Latin American background, the cultures and even languages vary slightly. It becomes even more important to have a good understanding of the nuances.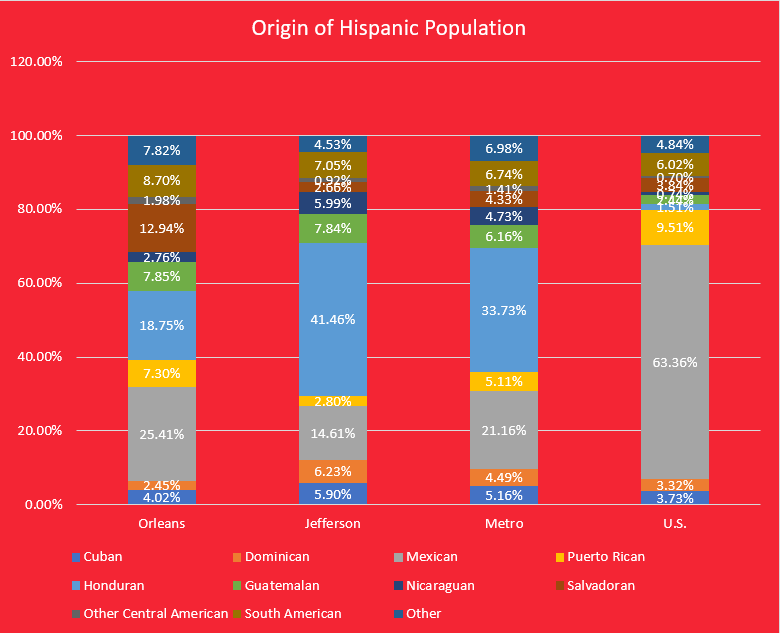 There are, however, some common and understandable elements to the puzzle of reaching the Hispanic audience.
MOBILE
Mobile first is even more important when reaching Hispanics. This demographic is now the most avid of smartphone users. According to Nielsen's Total Audience Report (2016Q2), Hispanics are on their phones for over 14 hours a week (compared to 12 hours for the total market). Nielsen also found the Hispanic mobile user will use over 650 minutes per month on their mobile plans, much higher than the average of 510 for all consumers. And, if they are bilingual Hispanics, their usage jumps to more than 762 minutes! This high usage and engagement with mobile devices provides an interesting opportunity for brands using mobile as a message delivery system. Hispanics have become super users in the space.
AUTHENTICITY
It's now a given that content must be authentic, simple, and relevant to the audience in order to be successful. Promoting content that has these three attributes will help your brand grow and will also connect with the consumer in a deeper level. When targeting the Hispanic population, this is when the notion of translation comes in – not only in the sense of a script and copy but in translating the sense of family and community. Bi-cultural (or acculturated) Hispanics use Spanish and English equally throughout the day. Audience, setting and mood determine the language. Understanding when and where your message is being delivered should drive the language.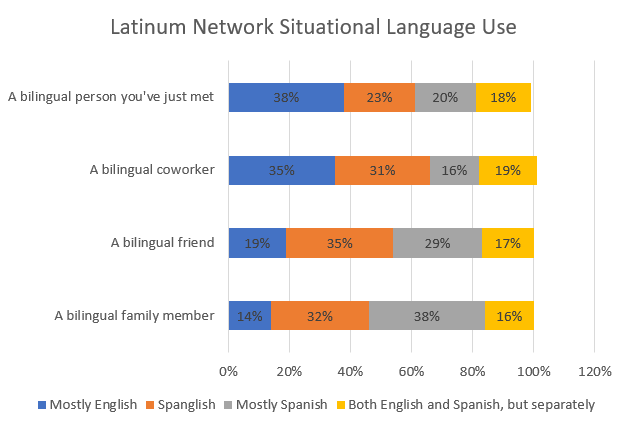 Successful brands will also focus on the nuances of how this segment of the population engages with mainstream touchpoints and communications. Translation needs to be about the sense of family and community. First and second-generation Hispanics are deep-rooted in their culture. These experiences go hand in hand with language. However, younger Hispanics feel they can express their culture beyond the use of language through their expressions, customs, music, holidays and traditions. In fact, they often prefer English. We will gather with the family to make the traditional tamales for Christmas and then Instagram the whole day to our friends in English.
VISUAL
When you consider that 65% of people are visual learners and that 90% of information that comes to the brain is visual, how you develop and showcase your products as images is critical. It's no surprise that we are living in the era of the selfie. As consumers, we all want to see something that will make us read. Images need to look like the audience and feel like the audience, not the designer or the marketing director. Ask any agency or person I've worked with, and they will tell you this is one of my biggest pet peeves.
MEDIA
As noted earlier, the last five years has seen an increase in Hispanic targeted media led by best-in-class marketers who allocate more than 14% of their ad dollars to the effort in Spanish/bilingual media. The Auto industry as well as CPG and retail have seen shifts in media dollars (to Hispanic) result in overall growth acceleration and topline revenue growth.
Companies like AT&T, Lowe's, Nissan, Toyota, Walmart, Target and Verizon have continued to invest in Hispanic dedicated media and also in their approach to recognizing the Hispanic target in their ongoing communications. These strategies are not limited to large national companies. Regional and local companies can also embrace the approach. Locally, we have a variety of options for reaching the Hispanic market through both English and Spanish-speaking outlets as well as a plethora of digital opportunities. From locally produced broadcast shows such as Que Pasa New Orleans? and the New Orleans Saints games broadcast in Spanish, to pinpoint geo-fencing and even expanded Google ads that can accommodate the language better than ever, the opportunity to engage the Hispanic consumer continues to grow with the market.
---
Wondering why we're talking about Hispanic marketing? In 2014, J Carcamo & Associates and ESP Productions formed a joint venture, espÑOLA to bring mainstream advertisers to the local Hispanic marketing.